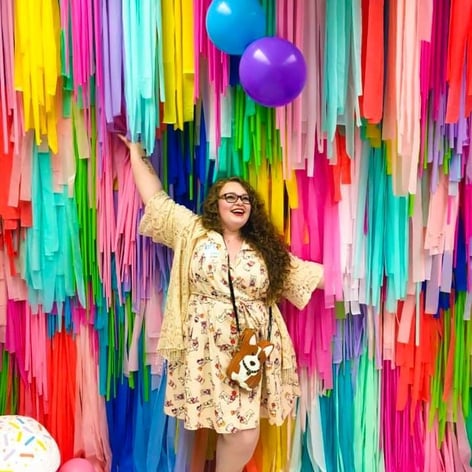 Are there corgis on that dress?
Happy Feature Friday! Meet our top bird lover, Bethany:
How did you find SnapStream?
I had just returned to Texas after receiving my Master's degree in San Francisco. I knew I wanted to be back home in Texas, but was hoping to find work at a company with the fun tech culture that I saw on the west coast. Finding a company that supported a healthy work/life balance was important to me because I fill my evenings and weekends with creative pursuits. I saw SnapStream's listing for an Office Assistant on Indeed, and I immediately knew this was the place for me. I actually wore a dress with corgis on it for my interview because I figured, "Why not? This group is fun, they'll appreciate it". Turns out that Chelsea, our HR Manager, also loves corgis. I'm pretty sure I was hired just because of the dress.
What is your role here?
Human Resources Assistant.
How have you grown with SnapStream?
Well, first I've learned how to build a lot of Ikea furniture! On a more serious note, I've gone through a lot of personal growth. I really didn't have a clear career path when I came out of grad school, but one has organically formed since I started here at SnapStream. I recently transitioned into my current HR position, which is something I never foresaw. Working in HR is a constant exercise in emotional intelligence, so I feel that I've learned how to work not only with people better, but with myself as well.
What is your favorite thing about SnapStream?
Definitely the people. There is always someone to talk to and some sort of hilarious banter happening, whether on Slack, Zoom, or in-person, and I feel incredibly lucky that it's my job to talk to them everyday! Second, my personal experience with growth within the company has been extremely positive. When COVID-19 began, I truly feel like SnapStream put the safety of us employees first and continues to make sure we are taken care of while working from home. I switched over to HR at the beginning of the pandemic since there wasn't much of an office to assist. I'm incredibly grateful that SnapStream offered me opportunity during such a crazy time.
What do you like to do when you aren't at SnapStream?
I'm obsessed with corgis and parrots - my corgi's names are Babka and Kaiser, and I have a cockatiel named Corgi. I sing classically and teach voice outside of the office and love a good cup of earl grey. Hobbies include reading (especially philosophy and historical fiction), cross stitching and playing Among Us.