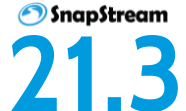 It's that time of the quarter again! We're excited to announce the release of SnapStream 21.3, which adds shared encoder tuning as well as several bug fixes for improved reliability and a better user experience.


What is Shared Encoder Tuning?
Your encoder can now support integrated tuning from multiple servers. Not sure whether this applies to your system or how to take advantage of this new feature? Check with your admin or reach out to our Support team.
Bug Fixes in 21.3
Master Nodes will no longer run any type of processor intensive tasks, such as showsqueezes for clip sharing.

Proxy file generation will halt and recover on the same cadence as recordings. This applies to Moco and on-prem SnapStream systems.

The previous Miscellaneous settings for integrated tuning have been removed in favor of supporting the new Shared Encoder Tuning.
These newest features are available as a software upgrade to your SnapStream news and media video workspace. Want to start using them? Have your administrator schedule an upgrade.

Our Support team will perform the upgrade via a remote session that usually takes no more than an hour so you can start using your new features quickly.