SnapStream 9.4 brings you a new clipping interface, pre-roll and post-roll branding on clips, integration with Kaltura, and many other bug fixes and improvements. You can see these new features in action by watching our on-demand webinar. Here's what we've added and improved:

A few of the highlights:
New Clipping Interface
Pre-roll and Post-roll Branding on Clips
Kaltura Integration
New Clipping Interface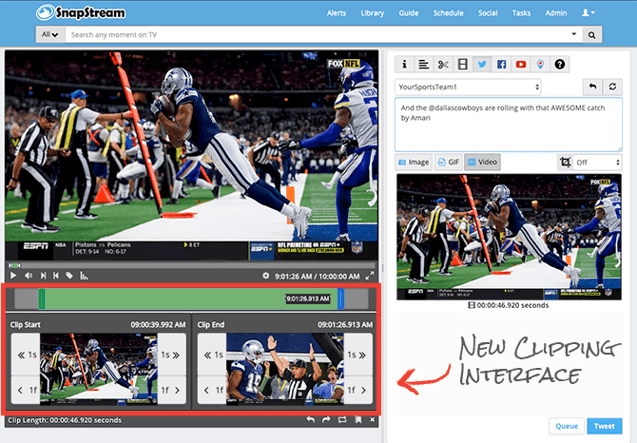 SnapStream 9.4's new, snappier clipping interface will look familiar to former SnappyTV users. It gives you more fine-tuned control of in and out points during clip creation. You can configure SnapStream to automatically create an out point once you pick an in point (you can customize this—for example, you can set the automatic out point to occur after 10 seconds each time). Then, refine that out point and you're done.
The software will also show you a zooming trackbar that automatically sizes to the length of that clip. You can then go forward or backward by frame or second. The in and out point thumbnails allow you to quickly preview the clip's start and end frames. You can also loop the whole clip or loop the last 2 seconds.
To begin, use your mouse or keyboard to select an in point on a video.
Pre-roll and Post-roll Branding on Clips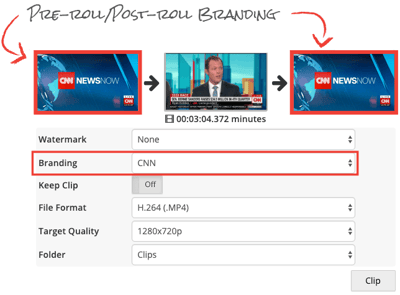 Give your brand one look in one place. With SnapStream 9.4, you can easily add custom branding, such as your company's video intro, to your clips—no need to spend time using an additional video editor.
Simply upload and save your desired brandings for pre-rolls and post-rolls. Then, select the specific brandings you want to use from a drop-down menu as you create clips.
To get started, go to the "Admin" tab and choose "Brandings" on the left-hand menu.
Kaltura Integration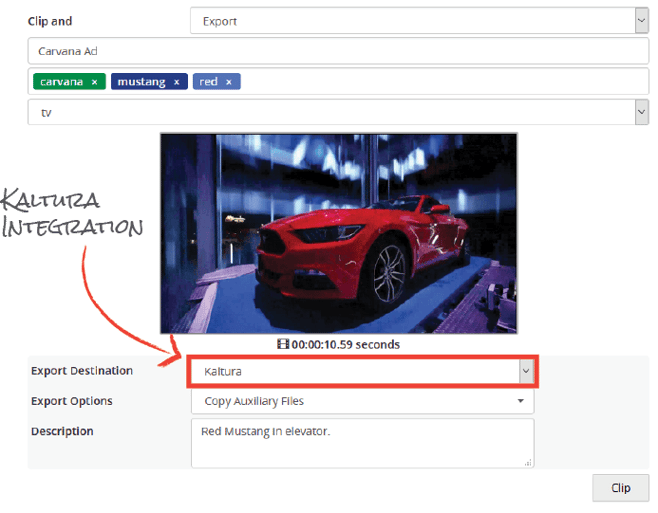 Natively export your clips in SnapStream to Kaltura. Kaltura is our newest integration with an OVP. SnapStream now has native support for 14 cloud storage, OVP, CDN, and MAM services—and is always adding more based on customer requests.

To start using our newest integration, go to SnapStream and set up Kaltura as an external account. Don't use Kaltura, but are curious? Learn more.
More
SnapStream 9.4 has many other bug fixes and improvements, like updates to the clipping hotkeys and the option to auto-minimize task pop-ups. Please read the full release notes.
(Usually 1 hour)
SnapStream's support team will perform the upgrade via a remote session.
See SnapStream 9.4 in action.