We're excited to roll out our newest SnapStream 9.5 release, which is focused on enhanced streams support with live transcription and Slack integration. At a high level, SnapStream 9.5 allows you to:
Easily add streams and create specific events to record

View and search live transcriptions from the added streams

Share a clip directly to Slack

Geo-lock posts to Twitter and Facebook

Streams & Events (With Live Transcription)
(Note: Only available as a part of SnapStream Cloud.)
One of our long-term focuses is helping our customers to expand their content sources within SnapStream. SnapStream 9.5 is the first step in that process by letting you directly add and manage your own RTMP or HLS streams. This can be great if you want to:

Record and clip specific events, such as a press conference

Easily add press pool feeds and other live and breaking news feeds, such as CNN Newsource, AP Video Hub or Reuters Video

Record and clip your Zoom events, meetings and webinars

Add, record, and search a 24/7 news stream channel, such as CBSN or YouTube Live channels


Many of our customers want to quickly grab a stream to record and clip a specific event, such as a press briefing or an event that may not be available on national news broadcasts. So we also added the ability to create scheduled events for your streams as well. If you want to record an event happening next Tuesday from 2PM to 3PM, you can schedule it on any stream you setup in SnapStream.
Live Transcription
Our Streams & Events feature now enables Live Transcription. Since not all streams carry caption information, SnapStream can create those transcripts in real-time. Not only does this allow your event to be searchable later, but it makes real-time live clipping easier. SnapStream includes this transcript data when you publish clips to social media so your clips show captions when they auto-play as a user scrolls through Twitter or Facebook.
When you upgrade to 9.5, you get 30 days to test out Streams & Events completely free. Add as many streams as you want and record as many events as you need. We also provide 10 hours of free live transcription per month.
Learn more about Streams & Events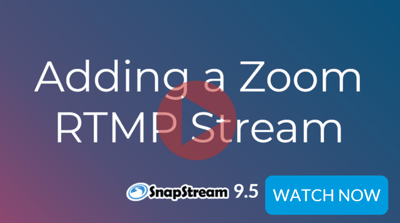 Recording a Zoom call in SnapStream only takes a few clicks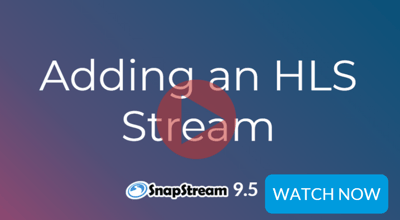 OTT channels like CBSN can now be added to SnapStream for clipping
Clip to Slack
One of the things we heard from a lot of customers is that they'd love to be able to share clips in Slack. Many of you create clips in SnapStream and collaborate with them with other members of your team to decide if and how to use them. Maybe a few of you want to decide if that's the right clip to post to social media or to your website. Plus, just about every team is on Slack so it just makes sense to share clips directly there!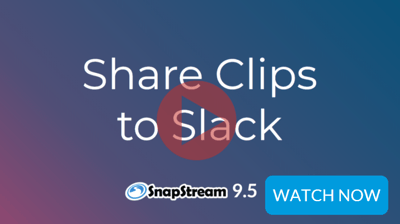 Geolock social media posts

Many of our customers need to ensure that their posts are only displayed in specific countries or excluded in specific countries. SnapStream 9.5 now supports geolocking posts to Twitter and Facebook. You can select specific countries where to show the posts or where to exclude the posts.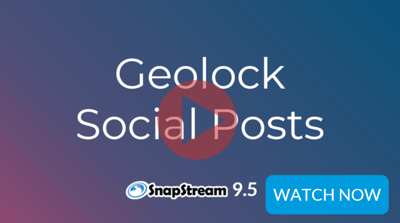 Speed enhancements & more

We've also made performance upgrades to our SnapStream Cloud product. Cloud customers, particularly those with a larger number of users, should notice faster speeds when publishing clips to social media. SnapStream 9.5 has many other bug fixes and improvements. Read the full release notes.
These newest features are available as a software upgrade to your SnapStream. Want to start using them? Have your administrator schedule an upgrade.
SnapStream's support team will perform the upgrade via a remote session that usually takes an hour.