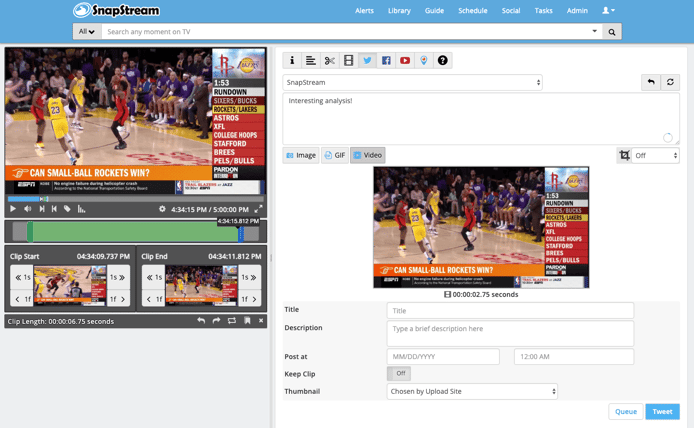 In July 2019, Twitter announced that it would be sunsetting SnappyTV by December 31, 2019, and replacing it with LiveCut, which is now part of its own Media Studio.
If you're looking for a SnappyTV replacement for your social media team, SnapStream might fit your needs. We've been making TV social since 2015. Here are some of the features our hundreds of customers, including BuzzFeed, Politico, and Talking Points Memo, use to share TV and live video to Twitter, Facebook and a variety of other OVPs and CDNs.
Tweeting and More Direct Social Sharing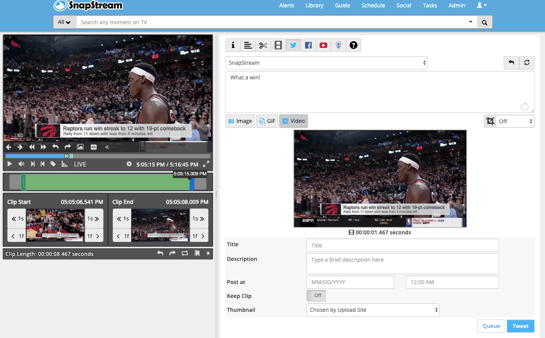 Using SnapStream to tweet a moment from ESPN.
With SnapStream, you can clip a video or create a screenshot or GIF and instantly share it to your Twitter, Facebook, and YouTube accounts—all within one interface. No need to manually download a clip or open a new tab.
You can customize permission settings to control which users have the ability to share content to your organization's social media accounts.
Editing Tools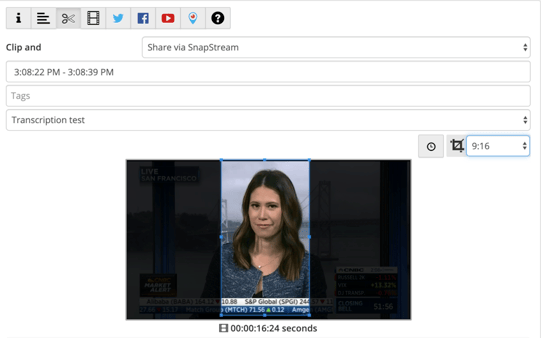 Using SnapStream to vertically crop a clip to a 9:16 aspect ratio.
You can vertically crop clips within SnapStream for Instagram, Snapchat, and TikTok. You can crop clips to a number of dimensions—square, 9:16, 16:9, and 4:3.
And regardless of which social media channel you want to push your content to, you can use SnapStream to add watermarks (such as your organization's logo) and meme text.
TV Search and TV Alerts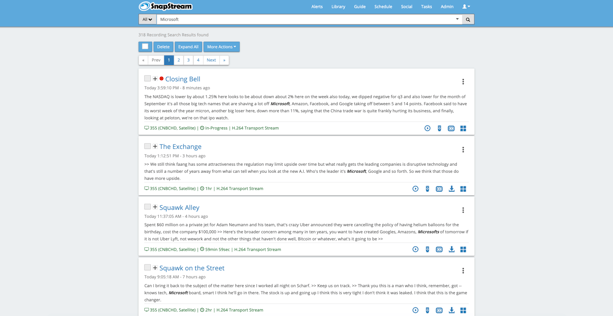 Searching for TV mentions of the term "Microsoft" with SnapStream.
Need to find an exact moment of TV? SnapStream's TV Search uses closed captioning text and program guide data for all the TV shows you've recorded to instantly find "a needle in a haystack" on broadcast TV.
SnapStream's TV Search can comb through your entire library in seconds (even if your recordings go back for years). The advanced language algorithms correct the transcripts and make them more readable. They also identify syntax clues that make your search more reliable and useful.
You can search for your organization's name, the name of a public figure, and more. You can also refine your search using boolean and other operators (for example, you can search "White House" or "Oval Office.")
If you want to keep track of a particular keyword, such as "Houston Rockets," you can create a TV Alert and get a notification in your inbox whenever that keyword is mentioned on TV.
Integration with 3rd Party Services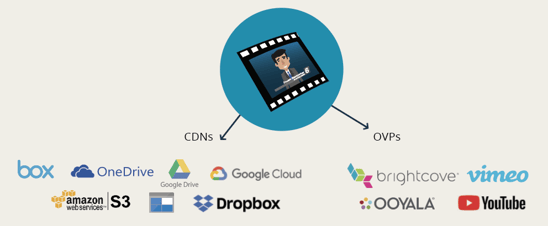 The 3rd party services SnapStream supports.
With SnapStream, you can get your video files where they need to be by natively exporting them to a variety of cloud services.
SnapStream has native support for a broad set of cloud storage, OVP, CDN, and MAM services:
Box.com
Dropbox
Google Drive
OneDrive
Google Cloud Storage
Amazon S3
Azure Blob Storage
YouTube
Vimeo
Ooyala
Brightcove
Sony Ci Media
Frame.io
After you push your video files to a cloud service, you can archive them to save storage space within SnapStream.
Workflows
An overview of how SnapStream's Workflows feature works.
Workflows in SnapStream let you save time by swiftly automating tasks using simple dropdown menus.
You can configure Workflows to trigger on certain events (such as "Recording Finished" or "Clip Created") and then take a sequence of actions, such as moving or copying a file, or exporting a file to a third party cloud storage provider.
SnapStream Product Demo (watch now)
SnapStream makes TV social. Our technology lets users instantly capture, create, and share HD quality video clips, GIFs, and screenshots to Twitter, Facebook, and YouTube, as well as create square and vertical clips for Instagram, Snapchat, and TikTok. SnapStream's customers include BuzzFeed, Politico, and CNN.