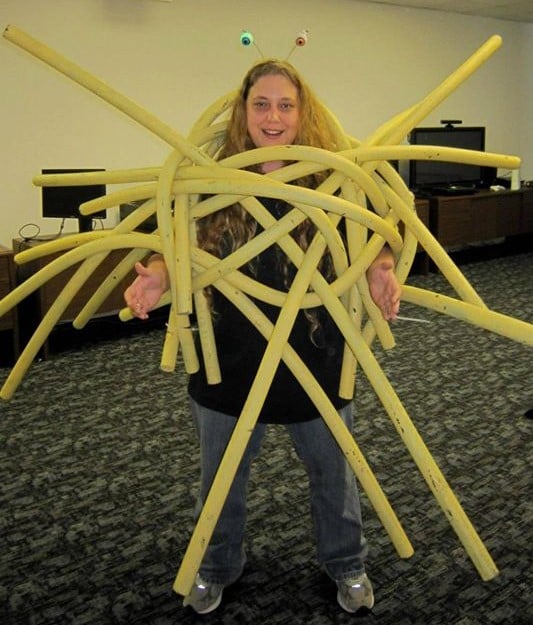 Adrienne dressed up as the Flying Spaghetti Monster for one of our famous in-office Halloween parties!
Hey, it's Feature Friday! Meet our queen of Support, Adrienne:
How did you find SnapStream?
I was looking for a new position because I was a network services technician at a call center that was about to close down. I was told that I could start looking for another opportunity, so I started blasting my resume everywhere. When I applied to SnapStream in 2009, I didn't really realize what it was until I got home and opened up BeyondTV on my home computer. I was greeted with the SnapStream branding declaring the company that makes the software I was using to turn my PC into a DVR. It was a pleasant surprise to realize that I did know what SnapStream was and I was one of the only interviewees that was familiar with their DVR software.
What is your role here?
Technical Support
How have you grown with SnapStream?
I've learned all sorts of new stuff, especially pertaining to standards in the video and media industry. I've always been interested in networking and anything with flashy lights! Since SnapStream is always evolving as technology changes, I'm constantly being exposed to new things. We went from recording content being fed directly to a single system to figuring out how to record to a cluster of systems. Then we were off to record from a variety of different types of IPTV streams, and why don't we go ahead and have our software record this content in the cloud instead? This gave me an opportunity to learn about different ways that a/v content can be sent, viewed, and manipulated. That also involves the discovery of all the things that can go wrong with doing this stuff. I like fixing things in general because I'm honestly really good at breaking things!
What is your favorite thing about SnapStream?
I love how there's a lot of intelligent people working here so I always feel challenged. In my previous position, there weren't a lot of places an issue could go beyond me. Things can get complex here at SnapStream, so when I have an issue I can approach someone who knows way more than I do in certain subjects, and in turn I learn how to fix things faster. I don't feel like there's a ceiling holding me down in learning here.
What do you like to do when you aren't at SnapStream?
I like to read mostly - I like to read Terry Pratchett, Neil Gaiman (Good Omens is a favorite), and Sci-fi fantasy books. I also enjoy camping, I went hiking in New Mexico recently. My favorite place that I have gone is Yosemite.