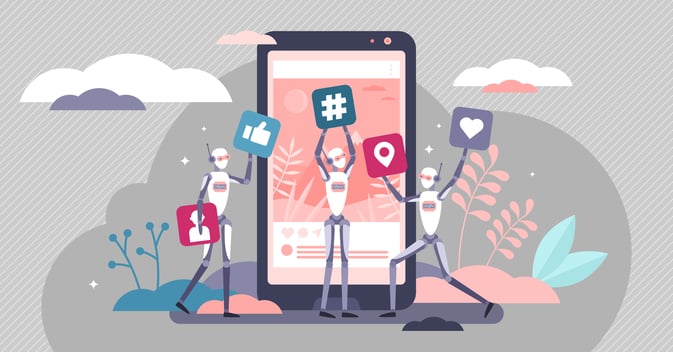 Social media algorithms are having a moment in the spotlight. Or rather, under the harsh light of the interrogation lamp.
From last year's documentary, The Social Dilemma, to this week's Senate Judiciary Committee hearing, the algorithms powering the major social media platforms are under scrutiny. These algorithms drive which pieces of content users watch and read. And in our current landscape where the number of information sources is high and media literacy is low, disinformation can spread like wildfire.
That said, it will take time to see whether we'll see significant changes to the way social media platforms use and tune their algorithms. For now, content creators of all kinds still need to stay aware of the routine updates made by each platform in order to maximize reach and audience engagement.
What are Social Media Algorithms?
Social media algorithms are what determine which posts a user sees in his or her feed. Algorithms utilize a variety of factors - including user behavior, post engagement, content type, and source - to determine which content is most relevant to the user. The higher the relevancy, the more likely the content is to appear at the top of the user's feed.
Social media platforms use data science and machine learning to power and constantly tune their algorithms with the intent of providing an ever-better, more highly targeted user experience. Fortunately, it doesn't take a data scientist to understand what kinds of content and behaviors the platforms' algorithms favor. Most are pretty transparent about it and provide best practices for content creators, news media organizations, and marketers to follow.
Here are 4 key things to keep in mind when posting newsworthy content across the various social platforms.
Seize the Moment on Twitter
Recently, Twitter's big push has been around disinformation shared on its platform. Late last year, Twitter updated its algorithms to focus on limiting the spread of misleading information or fake news.
For legitimate news organizations, that means less noise and more opportunity for real news to take back the top spots in users' feeds.

To make the most of this moment, news media and public affairs organizations should leverage every opportunity to deliver tangible proof and context in their Twitter posts. Give your audience the ability to hear directly from the source whenever possible.
Experiment with New Social Platform Features
Social platforms will often give higher visibility or promote content that leverages new features. This can be a particularly useful tactic in expanding your followers and reach.

While Instagram hasn't officially confirmed that its algorithm is promoting Reels (its response to the popularity of TikTok), users are seeing gains in their engagement when opting for Reels over traditional videos in the feed. In fact sports organizations have gotten major traction using Reels, with the NFL seeing 67% higher engagement.
Since we're talking about Instagram, it's also worth noting the platform provides greater real estate on its Explore page to Reels-based content, making it more likely for a new user to discover you and your narratives.
Redouble Your Efforts Around Social Media Best Practices
While social media algorithms are constantly evolving, there are ingredients that remain fairly constant in determining relevancy and where your post will appear in your users' feeds.
Audit your best-performing posts from the past few months and look for the following patterns:
Day and time - do you get better performance on certain days of the week? Are there peak times for engagement? Sure, there will always be breaking news that needs to get posted right now. Beyond that, aim to post content designed for your core target at the times where they are most likely to engage.
Conversation starters - which posts get comments or start conversations among your followers? Most platforms' algorithms favor content that engages users with one another or prompts a response that transcends a simple like. Examine which post types and copy structures most frequently engage your audience to comment.
Impact of video - most platforms' algorithms favor video-based posts. Look at what percentage of your posts featured video content and aim to increase it month over month. Most news organizations find that video content performs at least 2x better than text- or photo-based content.


Skip the Algorithm Entirely
Facebook not only continues to be the primary news source for many Americans, but it also offers a feature that is essentially exempt from its algorithm. Facebook Stories aren't governed by the platform's algorithm. Not only that, but Stories are featured at the top of the page, no matter what.

Facebook Stories are also a great mechanism for driving users to your website to look at other news stories. Per Facebook, 58% of users say they've gone to a company's website for more info after watching a Story. Make sure your Story content is easy to understand, as 52% of users rated this as the top priority for this particular type of content. Leverage stories for breaking news, quick hits, and concise narratives.
Social media platforms will continue to pursue a more perfect user experience by way of algorithms. Though with the potential for greater oversight or regulation, it remains to be seen what the long-term future looks like for this approach. For the time being, understanding and keeping pace with what your audience wants most - and what the algorithms favor - is vital to maximizing audience reach and engagement for news media organizations of all sizes.