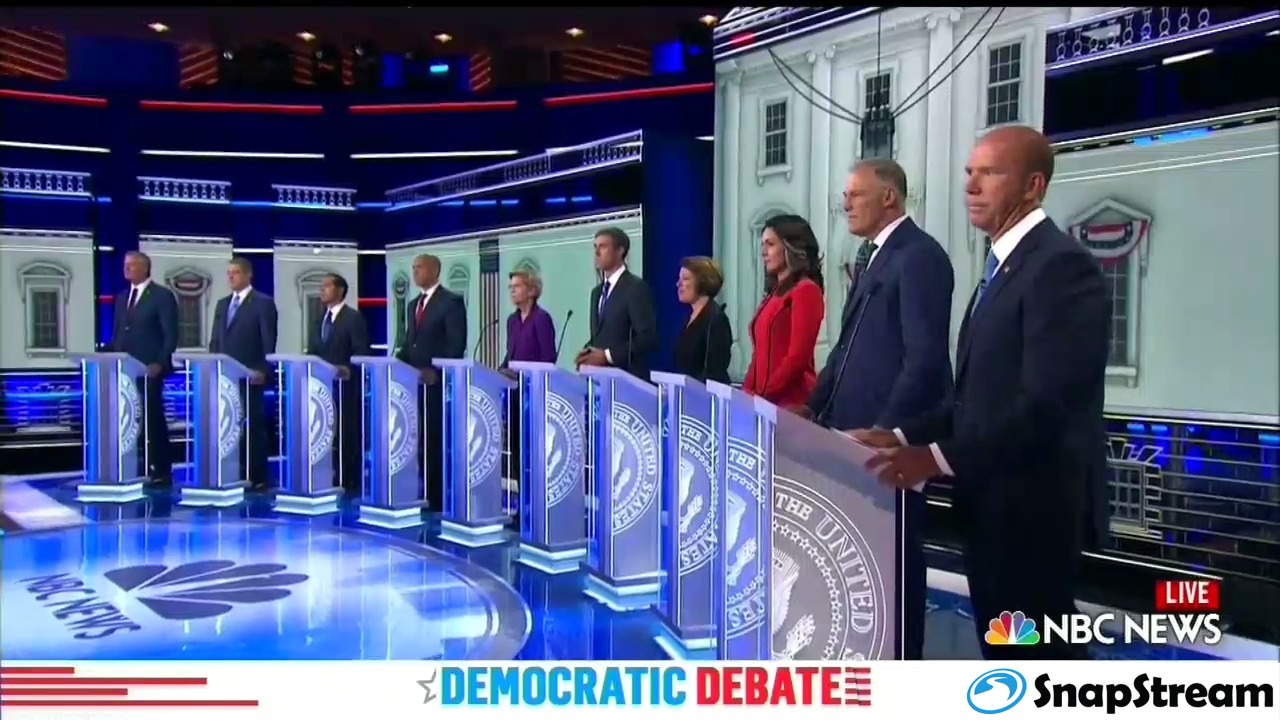 Photo Credit: SnapStream
The race for the 2020 presidential election is well underway. Ten candidates took the stage in Miami on Wednesday night for the first round of the Democratic debates. While the candidates wrangled their thoughts and policy positions, news outlets were hard at work capturing every interesting comment and meme-able reaction. Here are some impactful live-tweeting strategies the SnapStream team saw some of our media customers use Wednesday night.
Let One Reporter Take Over Your Twitter Account
BuzzFeed News streamlined its live-tweeting of the first round of Democratic Debates by letting reporter Ryan Brooks, who covers the Democrats, take over its Twitter account. Brooks quickly delivered some great content to the 1.3 million Twitter accounts that follow BuzzFeed News.
Sen. Cory Booker watching Beto speak Spanish pic.twitter.com/47S5rMOwuk

— BuzzFeed News (@BuzzFeedNews) June 27, 2019
Delaney: *breathes*



The moderators: pic.twitter.com/dpJqEr35kt

— BuzzFeed News (@BuzzFeedNews) June 27, 2019
Capture and Caption Funny Moments
When Beto O'Rourke started speaking Spanish to answer his first question, many people noticed Cory Booker's reaction. The Daily Show instantly grabbed the perfect image of the moment, added a hilarious caption, and put it on Twitter. The post has been liked more than 60,000 times, and retweeted more than 11,000 times.
When Dad says "Hola, como estas?" to the waiter at the Mexican restaurant #DemDebate pic.twitter.com/64FY2LV6kp

— The Daily Show (@TheDailyShow) June 27, 2019

Enhance Your Video Clips with Analysis
Politico also tweeted about O'Rourke speaking Spanish for part of his first response. But rather than focusing on Booker's reaction, the organization took a different approach. It tweeted out a video clip of the moment, and added quotes from two of its staff members above the video. Politico's Twitter followers not only got to immediately watch the scene on their devices, but they also got to read two very different takes on it. The video has gotten over 35,000 views.
Thoughts on Beto O'Rourke answering his first question tonight partly in Spanish:

"It's one way to stand out right away." – @natashakorecki

"Felt gimmicky to me right out of the gate." – @PoliticoCharlie

More analysis in our live chat: https://t.co/u73nMVOVMG pic.twitter.com/ILKs9eLQO8

— POLITICO (@politico) June 27, 2019
Tonight, 10 other Democratic candidates will have their turn. Which live-tweeting strategies will your team use?
---
SnapStream makes TV social. Our technology lets users instantly capture, create, and share quality video clips, GIFs, and images to a variety of social media platforms, including Twitter and Facebook.