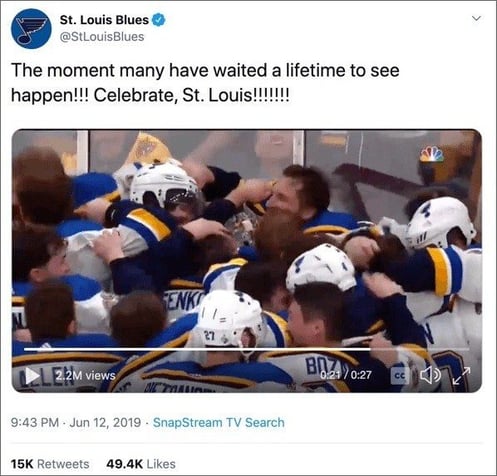 The deadline for finding a SnappyTV alternative is approaching. SnappyTV will shut down on December 31. Twitter LiveCut, the tool Twitter has replaced it with, has limited functionality.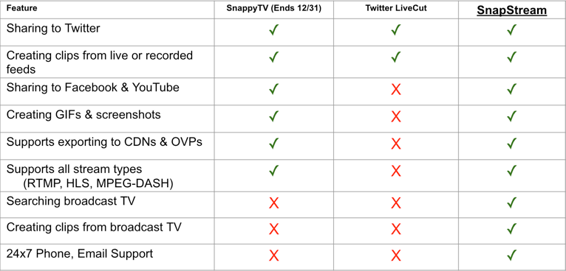 To keep your momentum on social media, it's important to find a powerful SnappyTV alternative that enables you to record, clip, and share moments from live video and broadcast TV.
With SnapStream, you can do everything you did with SnappyTV—and more. Here are three SnapStream-powered sports social media posts that got over half a million views.
1) LSU Football's FB Clip of Marcus Spears's ESPN Appearance
LSU Football alumnus Marcus Spears appeared on ESPN's Get Up! show after the LSU Tigers won their first game against the Alabama Crimson Tide since 2011. Using SnapStream, LSU Football clipped his appearance on the show and posted it on its Facebook page.

The post got more than 600,000 views, close to 9,000 shares, and almost 10,000 likes.
2) The St. Louis Blues' Tweet of the Stanley Cup Final
The moment many have waited a lifetime to see happen!!! Celebrate, St. Louis!!!!!!! pic.twitter.com/xTzDHsiO8Z

— St. Louis Blues (@StLouisBlues) June 13, 2019
In June 2019, the St. Louis Blues won the Stanley Cup for the first time.
Their social media team tweeted a video clip of the final few seconds of that fateful game—and the players hugging each other and celebrating their historic win. That tweet garnered 2.2 million views, more than 15,000 retweets, and close to 50,000 likes.
3) SportsNet New York's Tweet of a Quinnen Williams Moment
No comment @QuinnenWilliams 😂😂😂 pic.twitter.com/BIFB7BYQLc

— Jets Videos (@snyjets) August 3, 2019
During a press conference, Quinnen Williams, a defensive tackle for the New York Jets, had an awkwardly funny moment.
SportsNet New York clipped and instantly posted that video on Twitter. It went viral, getting 3 million views, more than 7,000 retweets, and more than 28,000 likes.
---
Looking for a SnappyTV alternative? With SnapStream, you can ingest HLS and RTMP streams, natively export content to a variety of third-party services, record and search TV, and do a lot more.
SnapStream Product Demo (watch now)
---
SnapStream makes live video and broadcast TV social. Our technology lets users instantly capture, create, and share video clips, GIFs, and screenshots to Twitter, Facebook, and YouTube, as well as create square and vertical clips for Instagram, Snapchat, and TikTok. SnapStream's customers include BuzzFeed, Major League Soccer, and the Arizona Coyotes.