It's time to put the old, laborious ways back on the bench, bring SnapStream into the game, and give fans the play-by-play posts they deserve. Social media connects fans with their favorite teams, but sharing action-packed visual content used to be a taxing process—long wait times, screenshots, numerous uploads and downloads.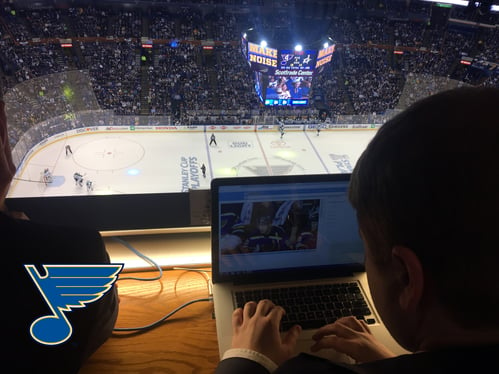 Matt Gardner, Senior Director of Promotions and Digital Strategy for the St. Louis Blues Hockey Club, oversees a team of digital strategists that are leading the NHL in providing a comprehensive digital experience for their fans. At the beginning of the 2015-2016 season, Matt and his team began looking for a digital solution that was as user friendly and as real-time as possible.
BOOM! #stlblues pic.twitter.com/1I9r6ylPrd

— St. Louis Blues (@StLouisBlues) February 19, 2016
Their previous solution to share content to their main social media accounts, Facebook and Twitter, took too long to deliver content and required long waits and tedious edits. Clips of the Blues' big goals, incredible passes and huge saves by their goalies could take up to 20 minutes to become available to the digital media team, if at all.
We are #TeamSTL. Our town. Our teams.https://t.co/whOJ5id2OW

— St. Louis Blues (@StLouisBlues) January 15, 2016
The Blues found their solution in SnapStream. SnapStream provides a real-time solution for the team, and allows them to clip any and all moments they want to share with their fans quickly and easily. "The turnaround time is now seconds," said Gardner. "We see it live and we immediately jump into SnapStream. It goes straight to Twitter from there in seconds." With SnapStream, goals can happen in real time, and a GIF, image, or video clip of the goal can be posted natively to social media, almost instantaneously.
Anyone know the young fan in the @Lempaalanpoika jersey? We'd like to reward him for this nice gesture. #stlblues https://t.co/HgDmseJhKg

— St. Louis Blues (@StLouisBlues) February 7, 2016
Whether the Blues are at the Scottrade Center or on the road, all of the video feeds important to the digital media team are now accessible through SnapStream. Even the in-stadium feed can be accessed, allowing the digital team to share fun moments like the Kiss-Cam and overhead shots of the beginning puck drop.
As the Blues continue into the 2016 post-season, their innovative digital strategy team continues to recognize that SnapStream is a powerful tool for keeping their fans engaged on social media. Now, fans can feel the real-time rush of the game at their desk or on their mobile device. And, the digital team has more time to interact with fans, making them a larger part of the game and a vital part of the experience.
Click the link below to request a demo of the SnapStream Software.