If you've heard of SnapStream's TV monitoring technology, you've likely heard The Daily Show with Jon Stewart and The Colbert Report mentioned in the same breath. While we can't take credit for Jon Stewart's acerbic on-air personality or Stephen Colbert's deadpan delivery, we can say one thing: we are the television search technology behind the news-driven humor.
Yup, our very own closed-captioning search technology is at work on the TV production sets of both of these Emmy-award-winning shows. For this reason, we at SnapStream have a special place in our hearts for the TV genre of news satire, or "fake news." So, this got us thinking, when did this trend come into vogue? Are there mock newscast shows in other countries? Who are The Daily Show equivalents worldwide? It turns out, The Daily Show's international impact is pretty astounding.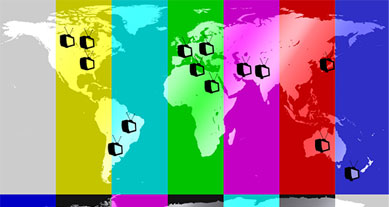 First let's flash back: The 1960s marked the era of Britain's satire boom in broadcast, with the groundbreaking That Was the Week That Was on BBC. In 1975, Saturday Night Live took off in the U.S. with its mock newscast "Weekend Update," which continues today as the show's longest-running recurring sketch. Then came HBO's Not Necessarily the News (1983-1990). Fast-forward to 1999, when The Daily Show with Jon Stewart first entered America's living rooms.
The Daily Show took a trailblazing comedic direction, focusing on politics, current events and the hypocrisy underlying it all. The show's editorial voice has become deeply influential to our society, confirmed in a phenomenon called "The Daily Show Effect," according to American Politics Research. Look at the books written about the topic, too! (See: News Parody and Political Satire Across the Globe)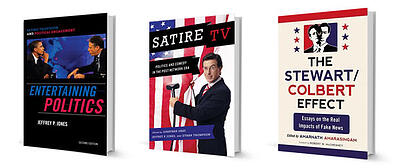 In 2002, CNN International began airing The Daily Show: Global Edition to overseas audiences, spawning syndication and fan bases in dozens of other countries. There's one official franchise in the Netherlands, The Daily Show (Nederlandse Editie). As a result, broadcasters all over the world have created their own localized spin-offs of The Daily Show, embracing the "infotainment" format and stylings of Jon Stewart.
Here's a clip of Jon Stewart appearing on the The Daily Show: Netherlands Edition, hosted by Jan Jaap van der Wal.
Up next, we will get to know the TV shows outside the U.S. similar to The Daily Show and The Colbert Report:
Caiga Quien Caiga
Custe o Que Custar
Le Iene
Striscia la notizia
Heute-Show
Al-Bernameg
Parazit
This Hour Has 22 Minutes
Rick Mercer Report
Week Thus Far
Have I Got News For You
Eretz Nehederet
If I Were Prime Minister
Russell Howard's Good News
10 O'Clock Live
Good News Week
Stay tuned!
See related posts: