Marissa O'Connor, director of social media strategy at the Arizona Coyotes, has tips on how you can do the same for your team
---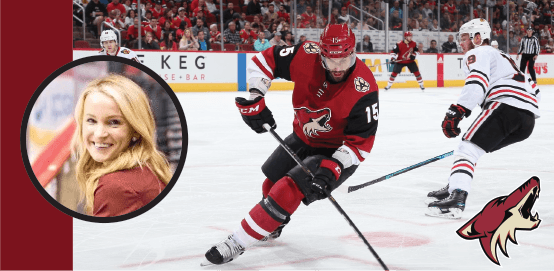 If you are part of the marketing or communications department of a sports team, chances are you're busy growing your team's fandom (fans' enthusiasm about your team)—and you know that social media plays a growing and critical role in doing so.
However, social media "never sleeps," says Marissa O'Connor, director of social media strategy at the Arizona Coyotes, and some brands fall into the trap of "trying to do too much."
O'Connor has several tips on how sports teams can use social media in a smart, strategic way to build their fandoms.
Know Your Audience
An Instagram post showcasing some Arizona Coyotes players doing community service.
Some brands try to create social media posts or comments around a national event, trending topic, or popular meme. But O'Connor says that brands can't "take advantage of every topical conversation." Not everything will resonate with a team's particular brand or fanbase.
She says that to narrow down what content to focus on, the sports team's social media strategists should start by examining whether they have a "brand bible" or a mission statement they can circle back to.
Next, they should consider who they're talking to. Ultimately, a team's social media posts should please fans, whether they are fans of the team or one of the players in particular, or the sport in general.
"You're not trying to please the entire internet," she says.
A huge part of the Coyotes' brand is giving back to the community, she explains. When she and her coworkers are making their content calendar, they keep that in mind. If their players will be doing a community service project, or if the team will be donating money to a cause, they add it to their content plan for the week.
"Remind yourself and your team of your mission and what you're really trying to do," she says.
Tailor Your Message Based on the Social Media Channel
Coming up next on Real Housewives of New Jersey... pic.twitter.com/FAdyV3VtLo

— Arizona Coyotes (@ArizonaCoyotes) January 5, 2019
A video the Arizona Coyotes social media team made with SnapStream and then posted on Twitter.
Different social media accounts have different audiences. O'Connor stresses that it's important to put each audience first and tailor your content appropriately. In the case of the Coyotes, their Facebook audience is the oldest, while their Instagram audience is very young.
So on Instagram, she says she and her team "might have a little bit more fun" and "use more emojis and be more engaging."
As for Twitter, she says the followers there are "hardcore hockey fans" who "truly can't get enough of the Coyotes." She doesn't think there's such a thing as "giving them too much information or talking to them too much."
She also notes that it can be beneficial to use analytics to see which players people want to see posts about. "We cater to what [fans] want, not necessarily what our marketing team wants, or what our ticket sales team wants."
Don't Forget about Customer Service
You sure can! The number is (623) 772-3863.

— Arizona Coyotes (@ArizonaCoyotes) July 1, 2019
An example of the Arizona Coyotes' social media team answering a fan's question on Twitter.
O'Connor believes that customer service is an underrated part of social media for companies.
"We live in a world where people want instant gratification," she says. "If someone is driving to the game and wants to know what time doors open, or where they can find a gluten-free beer, or how much parking costs, [they] want to know that information quickly."
Offering good customer service through social media platforms can help a brand grow its fandom, because fans will see that the organization really cares about them.
An Arizona Coyotes game experience, she says, is much more than just what happens from "whistle to whistle."
"The second you get to our parking lot, that's part of your game day experience and if there's anything that we can [do] to make that better, we want to do so," she explains. "People have never had more options for how they spend their entertainment dollars, and we don't want to take for granted the ones that choose to spend theirs with us."
---
At SnapStream, we make video social, whether it's from TV or an in-stadium feed. We're what the Arizona Coyotes and other sports teams use to grow their fandoms by instantly capturing, creating, and sharing high-quality video clips, GIFs, and images to a variety of social media platforms, including Twitter, Facebook, and Instagram.