Who will win "best post" on Twitter & Facebook?
During the #Grammys and the #Oscars, who will win best post of the night on Twitter & Facebook?
That's really the big question (right up there with, is Leonardo DiCaprio finally going to win his first Oscar?)
Award show season is here, and people are using Twitter & Facebook as the primary sources to experience these events.
We've seen this through the eyes of our customers who are live-tweeting GIFs and clips from TV with SnapStream.
Best reaction of the night goes to...
A great example—during this year's Golden Globes, when Leo won best reaction of the night. (Not to mention, he won Best Actor in The Revenant. Let's really hope he gets that Oscar though!!)
Twitter went wild over the Vine / GIF of Leo "throwing shade" at Lady Gaga as she brushed past him. It was a nanosecond of a glance, but it blew up online and escalated into all kinds of #LEOVSGAGA memes.
If you weren't tuning into social, you missed out on some funny stuff. Not just, oh some funny sidebar conversation. You may have missed, really, the best moments of the entire show. Which brings us to the next point...
Twitter's no longer the "sidebar," it's the main event
After the 2015 VMAs, The New York Times reported viewership dropping to 9.8 million viewers. But it wasn't a fail. Not by any means. It was the most tweeted-about (nonsporting) event ever: 2.2 million people sent 21.4 million tweets. So, what does this tell us?
Come award show night, there's a huge opportunity for social media publishers / personalities to frame the conversation on Twitter & Facebook. How can you win the best post of the night?
Here's 10 tips for winning the most retweets & likes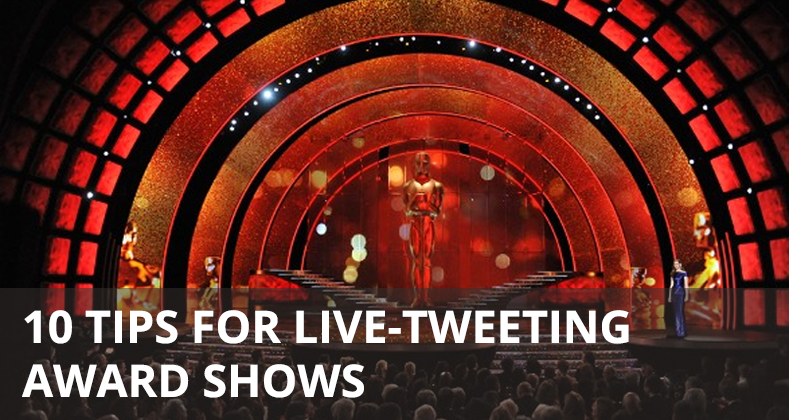 1. Ready your "war room"
Set up your social media war room for success. Order take-out. Stock up on energy drinks.
Get all hands on deck to live-tweet and post to Facebook for every big moment of the night (and the seemingly not-so-big moments, too.)
Write the official hashtag and all the A-list celebs @usernames for Twitter & Facebook on the white board in your conference room. Even though it's a live show, you'll be ready for anything.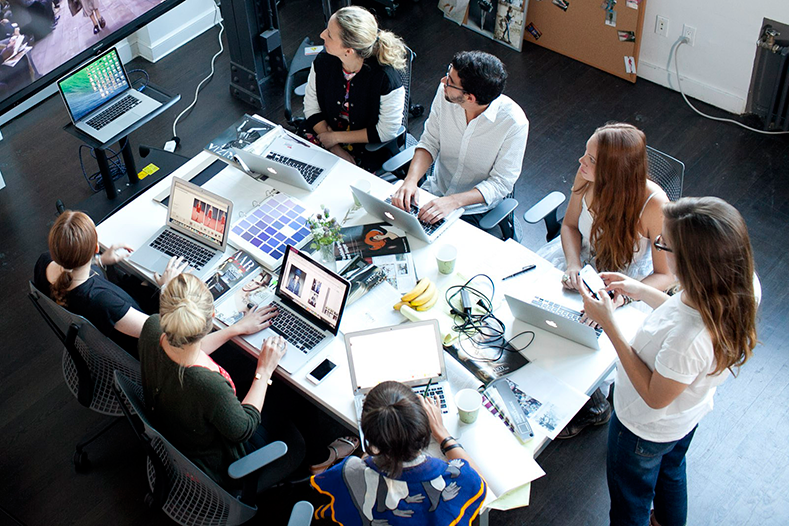 2. Social Content Strategy
Twitter
Tweets are shorter, more frequent posts.
The lifespan of engagement with content on Twitter is a flash in the pan.
Go with witty one-liners. Short bursts of information. Real time. Quick. (Comedians are naturals at this.)
Avoid "@" at the beginning of the tweet, so it's not a direct tweet.
all of twitter during this #goldenglobes monologue: pic.twitter.com/EFzDcbOn5C

— Jessica Goodman (@jessgood) January 11, 2016
Facebook
Use Facebook for storytelling (longer form posts and longer videos.)
Content is more evergreen / lasts longer.
Post next-day award show recaps, with a link to a full article or recap video about the big moments of the night.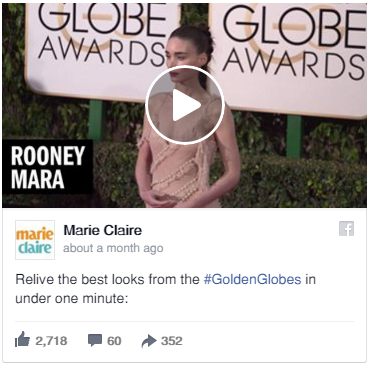 3. Watch TV for memes
Keep your eyes peeled for "GIF gold" — the most subtle moments make the best GIFs.
Look for quick glances, facial expressions & hand gestures. Imagine how they'll loop as a GIF.
Award shows are all about capturing the stars' reactions / interactions in the audience.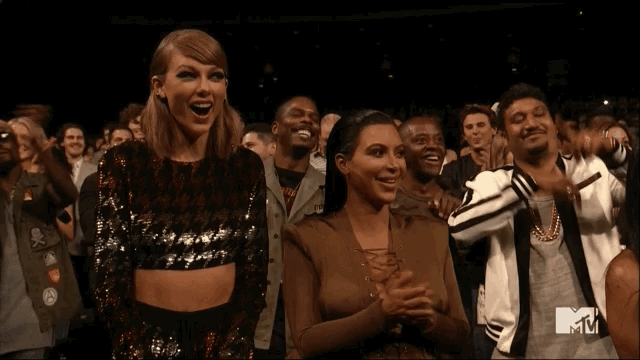 4. Visual content wins
Pictures are worth 1000 words. Twitter only gives you 140 characters, so visuals add a lot.
Immersive content will always be more engaging than plain text.
Tweets with GIFS/photos get 313% more engagement (via Twitter).
Facebook posts with photos get 53% more likes than text posts (via Kissmetrics).
Aw! @justinbieber broke down in tears after his big #VMAs comeback performance. Good to see you on stage again, Biebs pic.twitter.com/qwvw0o9hzx

— Access Hollywood (@accesshollywood) August 31, 2015
5. Upload native videos
Between April 2015 and November 2015, the amount of average daily video views on Facebook doubled from 4 billion video views per day to 8 billion (via TechCrunch).
We live in an autoplay world... Native videos autoplay and get the best engagement.
That's why SnapStream's integration with Twitter & Facebook uploads native video.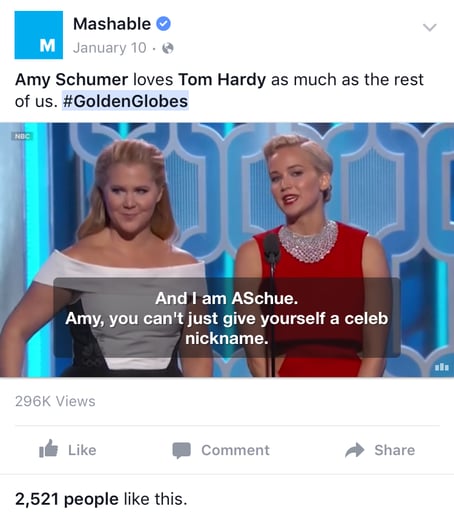 6. Video + overlay text
Overlaying text on your videos is the winning formula to get lots of views and engagement.
Facebook lets you include an SRT file (transcript) with your video upload. SnapStream includes the closed captioning automatically with all video uploads to Facebook.
You can also overlay text in post production, which is how NowThis has achieved so much Facebook growth (see video example below). In May 2014 they had 1 million video views and as of May 2015, they grew to 200 million video views.
If you do this in your video publishing activities, you'll be ahead of the game.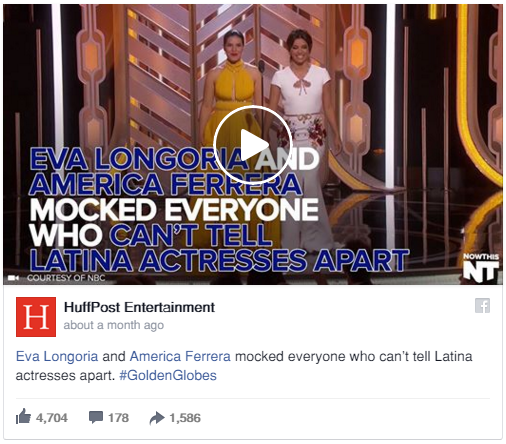 7. Use tags & hashtags
Every award show has a hashtag onscreen. Use it! Without it, your tweet or Facebook post might get lost in the mix.
SnapStream's auto-complete helps you tag the right handles and hashtags, similar to posting from Twitter or Facebook directly.
Tweets with #hashtags get 16% more retweets, because they get more visibility (via Twitter.)
8. Be the first to post
Award shows are live events. Be ready to react quickly. You don't know what's going to happen.
Share TV moments as close to real-time as possible. There's a happy medium between fast & accurate.
Award shows are covered by many organizations, so you can frame the conversation by being the first to post or comment. (If you ain't first, you're last.)
The account @YrBFF was on the ball during the 2015 Grammys, altering the shadow behind Katy Perry to look like Left Shark. (Only critique is, no hashtag on the tweet!)
he never left pic.twitter.com/0WZXIyQmd6

— BFF (@YrBFF) February 9, 2015
9. Have fun with it
Twitter is the new social water cooler. It's the place to joke around and poke fun.
Make your posts funny. Everyone loves a silly face. Everyone looks funny blinking. 2X or 3X the speed for an extra funny effect on loop.
Like when Miley Cyrus looked less than thrilled during Taylor Swift's "Shake it Off" at the VMAs.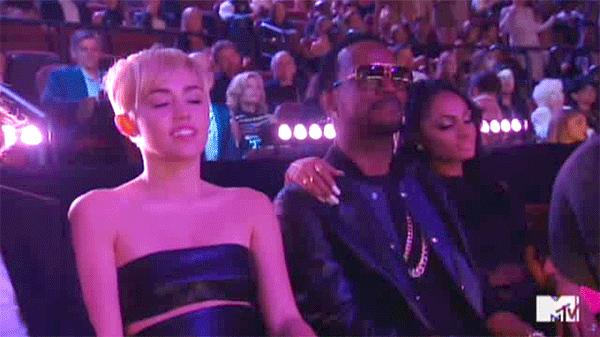 10. Make it a conversation
A lot of tweets and Facebook posts are one-way dialogues. Break through the noise by tagging others to make it a two-way conversation.
Direct reply to others. Have a real-time conversation.
same RT @sean_stronger: Really nervous about @RyanSeacrest hair with all this rain in LA #Oscars

— Ryan Seacrest (@RyanSeacrest) February 22, 2015
---
Want to make awesome GIFs for Twitter?
Check out snapstream.com/socialtv to learn more.
---