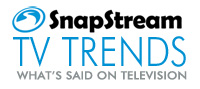 The popular New York Times Blog, Media Decoder, pointed out a noteworthy trend this week. You may have speculated on this, owing to Apple's flashy press events and drawn out product releases, but a recently-published study from Pew Research Center's Project for Excellence in Journalism confirms it. (Hey, they use SnapStream to analyze TV, high fives!)
The nitty-gritty: Apple is commanding an inordinate amount of broadcast hours, columns per inch and online real estate in our mainstream media. Encoding a year of technology news articles by topic, here's what the researchers found: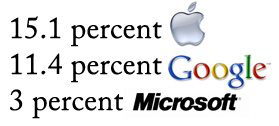 We took it to our own rich source of television monitoring data, TV Trends, to graphically show how these tech competitors have duked it out over time. So what's the verdict? Apple takes the cake, visibly, with high-frequency mentions frenzied by date. The playing field appeared level between Apple, Google and Microsoft up until Jan. 27, 2010, the day the iPad was born.