Today, we are saying goodbye to TV Trends. Since launching the free, online service in 2009, we have gleaned tons of valuable insight into what's frequently said on U.S. television. We harnessed SnapStream's powerful TV search technology to record lots of TV and then graph mentions, comparing up to 10 keywords at a time. TV Trends would show you the pulse of national news, listing the top, hot and cold trending phrases from ABC, CBS, NBC, FOX, MSNBC and CNN.
It was a fun side project for us here at SnapStream, but all good things must come to an end. On the bright side, you can easily build your own searchable TV archive, just like TV Trends, with SnapStream's TV search appliances. If you have any questions, please e-mail us at sales@snapstream.com.
In memoriam, here's a screenshot of the home page: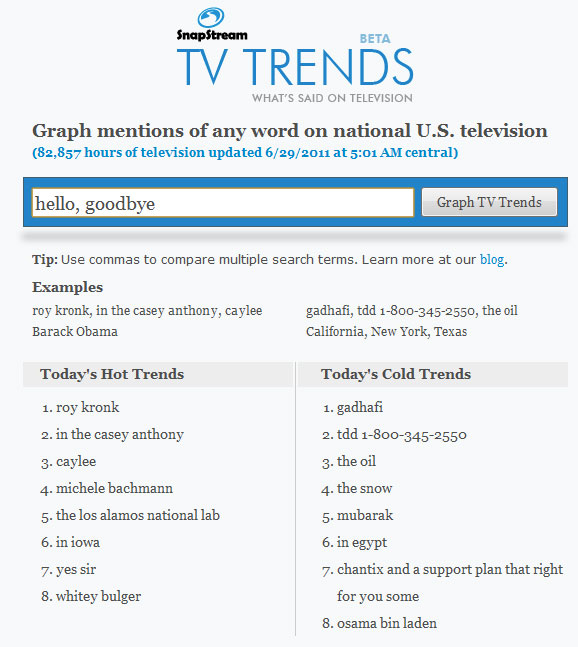 And here's a capture of comparative results for "hello" vs. "goodbye" dating from fall 2008 to present: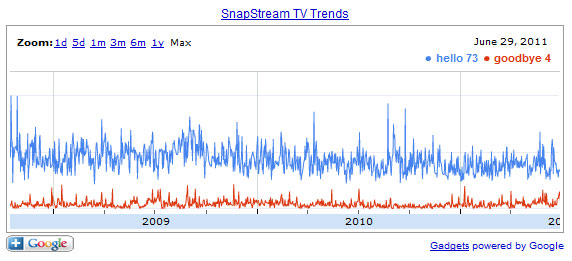 For a timeless reference point, browse our full index of TV Trends articles:
And in parting, let us sing "So Long, Farewell" to TV Trends!
Auf wiedersehen, adieu!