I was deep in marketing-land on Thursday (also known as "writing a case study"), when I heard about the US Airways plane that crash-landed in the Hudson. I grew up in Houston, but lived in NYC for 5 years and moved back last year. I still have lots of friends there...so when I hear news like that coming out of NY I still feel like it's My News and it feels personal. Within minutes, my boss showed me that rescue picture that Janis Krums took from the ferry and posted to Twitter. I was really amazed by how quickly that picture got out. I watched as the number of "views" went from the dozens to the thousands. It was posted and cross-posted on lots of different blogs as the page views overloaded the Twitter server. Twitter is an amazing thing. I posted it to my Facebook page; I had friends in NY who learned of the plane crash from my Facebook post. Incredible.
A few minutes later, I ran across an article on Silicon Alley Insider, "U.S. Airways Crash Rescue Picture: Citizen Journalism, Twitter At Work." I was astonished at how quickly that all happened. I know that sounds cliche...but not just the news of the plane crash - but also how quickly the photo some random guy took from his iPhone got thousands upon thousands of views within minutes; according to Dan Frommer, he was interviewed live on MSNBC just 34 minutes after he posted that photo to Twitter. Pretty cool. It got me thinking about how much technology has changed the way journalists cover the news.
Which got me wondering over the weekend, if I were a video blogger, how quickly could I get up a story about that plane crash? Here in the SnapStream office, we record most of the National news programs for our own interest and example purposes, and we've got alerts that are set up for "breaking news" (read more about that here). I went to my email alerts, did a quick search through Gmail for "Plane Crash" and got several results. I clicked right through to the program through the link in my alert: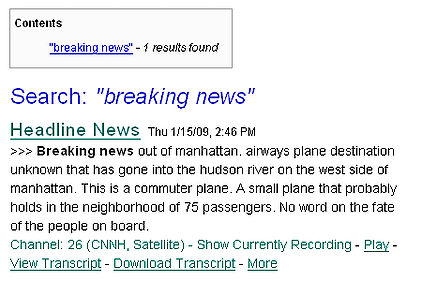 In the end, though, I was just fascinated by how quickly that news spread, and how new technologies like Twitter and SnapStream can help journalists keep track of an unfolding event. Pretty cool.
Here's the clip of the TV broadcast my "breaking news" alert linked me to.