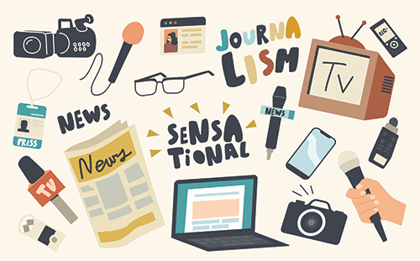 While the exact beginning point of journalism is subject to debate, one thing remains clear; there's a continuous evolution of methodology and processes.
Undeniably, one of the intriguing conversations in the journalism space revolves around technology. The debate is precisely on the role of digital resources in changing how the industry creates news and how consumers digest it.
From print journalism to radio, television, and the current influence of digital platforms, news delivery has significantly changed. Mediums that were once viable communication tools face the choice of adapt or fade away. More innovative content delivery methods have come into the limelight — and video is the anchor.
Emerging Technologies in News Creation and Delivery
Video is one of the technologies changing the journalism industry. Whether it's the creation of Facebook Live or the addition of Snapchat Discovery, there's a difference in how audiences absorb information.
Besides, outlets like Mashable are doing all they can to solidify the growing focus on video. Recently, BuzzFeed took steps to separate its video content into BuzzFeed News and BuzzFeed Entertainment. Similar outcomes may unfold in other news outlets soon.
Will Video Kill Print Media or Save It?
As content and news delivery evolves, print publishers are finding it hard to compete with free material in the form of video. While this new technology is a threat, it also provides a significant opportunity.
One of the most significant threats is that online publications heavily rely on advertising, yet he prevalence of ad blocking technologies and small screens has mad that challenging. The money that comes from print advertising can directly pressure the publisher's credibility and user experience. Quality and reputation can suffer from great reliance on "sponsored content."
After recognizing the inadequacy of giving away free, ad-sponsored content, some sites resort to a subscription paywall. Unfortunately, paywalls reduce organic search traffic as selling subscriptions is challenging, given the abundance of free materials.
Overall, none of the current methods of news monetization and information content has proved to be successful. It's not clear if they can support creating and maintaining the required websites.
How Traditional Newspaper Companies Can Benefit by Incorporating Video
The effectiveness of news delivery depends on how people consume it. Witty news coverage needs to assume that people are not stuck on a newspaper edition the day after.
Instead, the general assumption should be that they're reading on their mobile devices soon after events happen. Mostly, this is after reading the breaking news headline on platforms like Twitter or after getting a push alert to their inboxes or phones.
When there's news describing a specific moment in an event, people want to watch it immediately. Their devices make this possible for them, which is why everyone in the news business must move toward that. In addition to tweeting photos, they must incorporate embedded videos on their home sites.
That brings in the importance of getting better at being multimedia producers while being careful not to overdo it. The truth is, while video provides content, it doesn't necessarily explain to the audience what is happening. That means written journalism is far from over, and the task at hand is to adapt to the new and necessary space created by the overall changing media space.
Newspaper companies are forming teams and sub-organizations to curate video as part of the bigger part of their operations. This way, they can monetize with video ads, which marketers love, and which they can repurpose on social media, especially on Facebook.
While this might push some people to watch more and read less, there will always be an audience for longer-form written content. People still have room for reading hot-take editorial pieces.
Incorporating video into every online news post has become a huge priority, but written editorials won't disappear. The main reason for the growing video content is that companies get more ad revenue from video pre-rolls than from online ads.
A Natural Fit Between Topical Articles and Related Videos
There's a natural fit between written content and related videos. Well-chosen videos effectively enhance the reader's experience. A video can boost a story's claim, provide much-needed comic relief, or demonstrate a complex concept.
For example, think of a golf magazine that creates an associated video channel. By combining instructional and competition videos from experts, members can easily buy a subscription revolving around the sport.
It will have a more significant impact than having videos of a particular tournament or golf pro. With such a channel, the publication would have reinforcement while creating a source of revenue.
Publishers can be in the perfect position to perform the essential task of aggregation and curation. They can put their editorial expertise into use to enhance their publications while adding credibility to the videos they choose.
Another benefit of video is that it's easy to protect yourself from piracy. When a publication incorporates video, it reduces the risk of losing revenue to social media sites and independent aggregators.
Technology Has Made Communication Through Video Cheaper
Video is integral to how organizations tell stories and is the younger audience's language. Writing and reporting will always be crucial to journalism. However, how that writing translates into content the audience can easily digest will continue to evolve through 360 videos, video, virtual reality, and augmented reality.
The transition is possible because technology has made communication through video cheaper and more accessible. Whether through the phone in everyone's pocket or the equipment in a news organization, video content will always be available.
Instead of expecting the audience to tune in at a specific time to connect with their news segment, media houses now have to deliver content right where the audience is. The delivery should also be in the way the audience wants to receive it.
If you want to enhance your written news content with video content, you need the right software. At SnapStream, we can give you the workspace to create original TV clips for your productions and social media channels. Click this link to learn more.