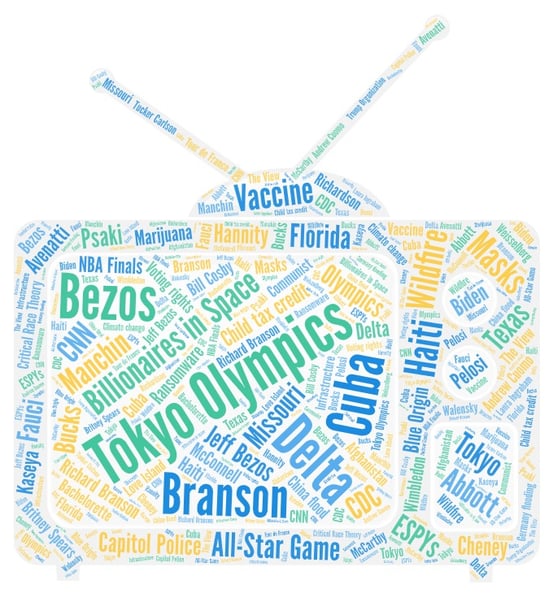 Each customer uses our news media video workspace in their own way, but it's always easy to see when trending moments command universal attention (you know, like billionaires heading to space).

As usual, July 2021 was packed with big news stories and our customers were all over them. Content producers were relentless in their quest to curate powerful video moments.
For the month of July, SnapStream users conducted 31,687 searches about people and events around the globe. Let's check out some of the biggest search topics.
Tokyo Olympics - After an extra year of waiting, the Summer Olympics finally returned, albeit with adjustments for health and safety. Gone were the roaring crowds of fans from around the globe, but that didn't stop folks from watching and delivering commentary. From hot takes on Simone Biles' decision to opt out of the team competition to Snoop Dogg and Kevin Hart's comedic takes on every event, gold-medal-worthy moments were everywhere.
Climate Change, Floods and Wildfires - listing the places NOT experiencing floods, wildfires, and other climate change-driven events might take less time than enumerating the ones that are. Oh, and let's not forget that July was the month that a burst pipe literally set the ocean on fire.
Billionaires, Bezos and Branson - This century's space race is being driven by billionaires. While things were heating up in July here on the ground, Richard Branson and Jeff Bezos set their sights on the sky. Branson became the first person to ride into space on a rocket he helped fund. Bezos took flight just over a week later.
And That's Not All
Other big searches this month included:
All-Star Game - The American League won its eighth-straight MLB All-Star Game and NY Mets first baseman Pete Alonso won the Home Run Derby for his second time.
Haiti - Haitian President Jovenel Moise was killed on July 7. More than 30 individuals were initially implicated in the assassination plot. The Haitian government recently requested a UN commission to lead a probe into the killing.
Abbott - Texas Governor Greg Abbott committed to calling "special session after special session" until Republican-backed voting rights legislation passes in his state. Texas House Democrats left the state in an effort to break quorum and block the legislation.
Delta - The Delta variant of COVID-19 hit the US in full force in July, with Missouri at the epicenter of the surge. By the end of July, the Delta variant accounted for the vast majority of new COVID-19 cases.
Lots to see in July, with powerful video moments to capture all over the world. So, keep searching, keep snapping, and we look forward to seeing what captures everyone's attention next month.