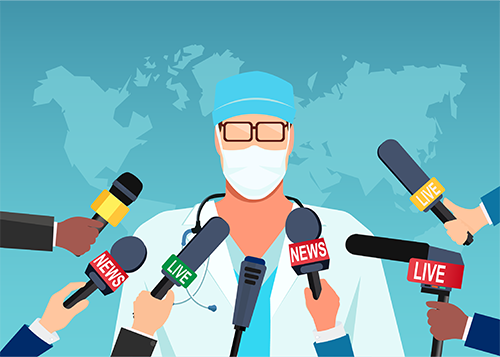 There's no doubt that the world at large has changed drastically since March 2020. With COVID-19 sweeping the globe, change has become the constant in our lives. Work became remote, people became quarantined, businesses suffered, and news media consumption took several interesting turns.
With constant updates regarding the pandemic, there has been an influx of viewers seeking comfort, refuge, and information through news media. The Reuters Institute's Digital News Report for 2021, unearthed several key findings. We will discuss four ways that COVID-19 has changed news consumption.
Shift to Digital
Some sources suggest that screen time has drastically increased during the pandemic. In fact, HR News reported that time on mobile devices had gone up a whopping 76% since the start of the pandemic. This statistic shows that people have drastically increased the time they spend searching the web and social media.
Because of this, viewers are constantly seeking access to news on their mobile devices. Scrolling through media to read updates, news articles, and videos is common for those seeking information about COVID-19.
According to the Reuters Institute Digital News Report, data suggests that significant attention is brought to mainstream outlets through Facebook and Twitter's ever-popular platforms. This presents an alternate avenue (than TV and newspapers) for news media companies to stay relevant, reach their target audience, and develop engaging content.
A Demand for Accessible Updates
COVID-19 changed the perceived pace of news. Information from the morning could drastically change by the evening. With scientists and doctors constantly learning new information and politicians consistently trying to make adequate decisions for their countries, few things remained static.
Because of the nature of the unknown, people were constantly seeking answers by searching the web and social media. This provided a sense of stability and comfort during a difficult time.
The mass hysteria and fear have led to viewers wanting on-demand, accessible updates. Now more than ever, viewers want to log onto social media and have the most recent update at their fingertips.
This presented a unique challenge for journalists and news outlets. There was a constant need to stay updated on politicians' announcements and scientific developments. Beating other news media companies to the punch, to deliver updates first, was essential to become a reputable and trusted source.
Decline in Print Demand
Publishing and delivering print posed a unique challenge through the pandemic. While still respected, traditionally printed media has struggled to keep up with the on-demand nature that viewers now expect. According to Reuters Institute Digital News Report:
"print newspapers have seen a further sharp decline almost everywhere as lockdowns impacted physical distribution, accelerating the shift towards a mostly digital future".
Public Avoidance
To say that COVID-19 was full of discouraging information and pessimism is an understatement. News has traditionally highlighted tragic information. The traditional credo "if it bleeds, it ledes" is known for a reason -- it's an effective way to increase viewership and engagement. However, with the pandemic dominating the news cycle, consumption of negative news reached higher levels.
Because of this, some viewers opted to avoid the news alltogether. This was likely a necessary decision based on mental wellness and to avoid overwhelm. However, this trend, of course, worried news outlets.
To combat this, news organizations had to weigh how they could implement more positive, engaging, and uplifting ways to deliver information. Instead of focusing on the gloom of the situations, outlets could put a positive spin on the current state of the world.
Conclusion
Many businesses had to pivot to survive during the pandemic. This was no different for news media. In order to survive, thrive, and overcome the challenges presented by COVID-19, media outlets had to change their methods and timelines of providing reliable information to viewers.
Though this presented difficulties, many news outlets rose to the occasion by staying on-trend and altering protocols and processes when necessary.
Want to break news faster to keep up with the demand? Check out how SnapStream can help you be the first on Social Media with our cloud-based news and media workspace!