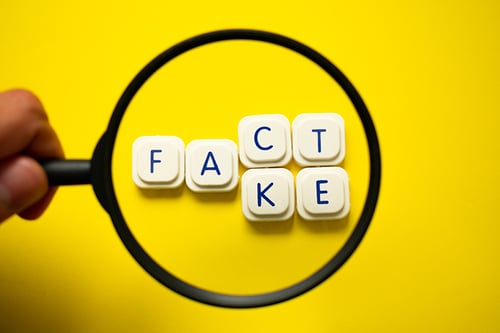 Determining which news stories are misinformation versus which are fair and accurate is a challenging task. Fact checking -- which used to be the sole responsibility of news outlets, is beginning to fall on the shoulders of the audience. In today's flood of misinformation, ensuring the veracity of news content and sources is more critical than ever.
Unfortunately, misinformation in journalism is not a new concept. At times, some news outlets and personalities have taken information out of context or leaned on unreliable sources in an effort to break a story first or to cater to their base.
Let's take a look at news misinformation, how common it is, and how COVID-19 perpetuated misinformation in 2020 and 2021.
What is Misinformation?
Misinformation can refer to a wide range of false information or information taken out of context. Sometimes it's the spread of untrue facts, and other times, it's propaganda geared to make society scared or distrusting.
With the rise of social media, propaganda and conspiracy theories have seen a major uprising that has caused some to become skeptical and weary.
Now that anybody with a social media account can share "news", there is more misinformation than ever before. Journalism is no longer exclusively in the hands of ethical experts that are diligent in conducting fair and accurate research. People without journalistic credentials can easily spread information among the masses.
This is a scary truth for those absorbing news and information. The responsibility has now fallen into the hands of the consumer to fact check information and resources before falling into the trap of believing the news they've been presented.
Despite this, misinformation spreads far beyond propagandists and conspiracy theorists. In fact, reputable news sources can fall victim to spreading misinformation. As a journalist tackles a story, the context of every fact must be taken into consideration before sharing. Without fullying researching and understanding the story behind news, photos, or clips, the journalist is unable to accurately convey the true message.
Frequency of Misinformation
According to Letter.ly, in quarter 3 of 2020 alone, there were 1.8 billion reported fake news engagements on Facebook alone. This includes propaganda, conspiracy theories, or information taken out of context.
Letter.ly suggests that 52% of Americans have reported encountering fake news. Yet it is difficult for consumers to determine between fake news and real news, especially if the fake news aligns with their beliefs and biases.
These statistics are both alarming and harrowing. As fake news spreads on social media, it can easily gain traction and go "viral" lending an unofficial credibility "by the numbers" in the court of social opinion.
Trust Among News Outlets
As consumers are becoming more aware of fake news, trust among news outlets has taken a hit. This presents a problem for responsible and reputable news companies that have dedicated their livelihoods to providing accurate, reliable information to their viewers.
According to Statista, trust in news outlets varies significantly depending on the country. The United States has one of the lowest trust ratings, at only 29% of people reporting that they trust the news media.
Interestingly, the Coronavirus pandemic has had a rebound effect on consumers and their trust in news media. According to the 2021 Reuters Institute Digital News Report, trust in news media has improved by 6%. This is promising for media outlets but there is still a long way to go to fully capture the populations' confidence.
Journalist Responsibilities
One of the best ways to avoid misinformation is to require journalists to take responsibility for their work. Maintaining strong journalism and news media ethics is necessary to continue to see a rise in media trust.
Each newsroom should abide by traditional editorial standards. This ensures that the journalists and news outlets carefully comb through their sources and information to ensure they are only reporting news that is completely true and factual.
Can We Trust The News?
In short, the answer is yes. However, it's the consumer's responsibility to ensure that they follow reputable sources that take pride in the veracity of what they report. Though there is a lot of misinformation out there, there are plenty of reliable sources dedicated to providing accurate news to the masses.
Misinformation is more common on social media apps, such as Facebook. However, it's important to note that social networking can remain a safe place to get accurate information if you're following news outlets that have secured a reputation for being reliable.