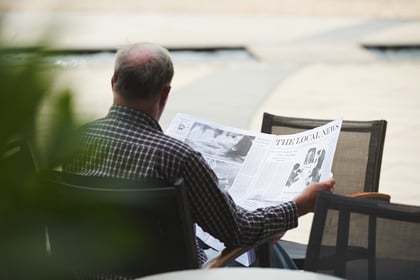 For over two centuries, the for-profit business model that sustained local journalism in the United States has been challenged by technological and economic forces. For years, local news outlets have struggled to survive because of advertising-based models, but the COVID-19 pandemic and recession have created an "extinction-level" threat.
In thousands of communities, residents live in vast news deserts because one-fourth of the country's newspapers have disappeared. There is fear that the local news ecosystem in the country may collapse. Over 60 local newsrooms across the country had closed by February 2021, including large chains (CNHI) and many owned for generations.
In contrast, the San Francisco-based company Substack has made headlines by luring high-profile journalists away from established news outlets with a subscription system for digital newsletters. Some of its journalists bring in hundreds of thousands of dollars from subscriptions, including Vox co-founder Matthew Yglesias, Rolling Stone contributor Matt Taibbi, BuzzFeed senior technology reporter Alex Kantrowitz, and the New Republic climate reporter Emily Atkin.
How Can Other Local News Houses Leverage And Navigate The Changing Times?
For journalists, the Internet's growth as a means of disseminating news added more duties to their daily routines. However, it has profoundly impacted how news houses format broadcast news and consumers' expectations regarding access to information.
James P. Mahon, a reporter at WDEF News 12 in Chattanooga, Tennessee, says traditional TV news will be gone in 15 years, but audiences will still crave authentic stories. "It will probably be a cross-platform service offering bite-sized stories in real-time with visuals.
With today's instant news access, events reported at 2PM are already dated by the traditional audience view time of 6PM. People want their Twitter and Facebook feeds to be available. Millennials use their phones 24/7. Many buy Wi-Fi subscriptions instead of cable."
Retooling the Newsroom
In the same way that consumers have shifted the tools they use to get information, newsrooms have adopted alternate tools for presenting and gathering news. Both Facebook and Twitter have integrated deeply into news gathering and presentation.
Despite the importance of newscasts, Will Tran, a reporter at KRON 4 TV in San Francisco, says Twitter, Facebook, and our website are better ways to communicate information these days. Reporter Tran, who starts his day early at 2 a.m. and wraps up the news at 5 a.m., hosts a gregarious morning show. With added humor to his posts, he regularly posts to social media outlets.
Online Live Streaming
Broadcasters have embraced live-streaming apps to reach the youthful demographic that is attracted to these services. Media gathering has become easier with platforms which allow users worldwide to share live video. This is especially true for TV stations, which can use the feeds on-air.
Mahon says they use Periscope and Ustream every week. In the event of breaking news and extreme weather conditions, viewers will have direct access to emergency press conferences."
Stations realize no one will wait around for noon or 1 p.m. newscast to report a breaking story that happened at noon or 1 p.m., Tran adds. Everyone knows that no one watches the news anymore.
To be successful on social media, you must also be a heavy hitter. Social media is the vehicle running the news now. Local news stations need to hop on and ensure they bring their viewers along and make it snappy. The generation is full of skimmers.
News Tailored to Local News Viewers' Interests
Besides streaming services, consumers now expect a personalized experience when engaging with online content. According to Mahon, online streaming services, such as Roku, Hulu, and Netflix, have changed how we interact with audiences by providing them with niche customized programming when and how they want it.
Previously, journalists merely focused on delivering specialized news for a local audience. Creating a few newscasts each day for all viewers meant putting together a few shows each day. However, technology makes it possible for businesses to learn about visitors to their websites and deliver customized information.
One-size-fits-all delivery of information has become more difficult because of this change. In the future, news outlets will find new ways to deliver content based on visitor interests as personalization becomes more prevalent.
Creating Business Connections
Consumers are now consuming more information. Businesses can learn from this. Companies need to ensure they reach consumers in the most effective way possible with the explosion of online marketing. The Internet has generated a broader audience for businesses of all kinds, just as it has benefited local news outlets.
News outlets and marketing specialists need to adapt their messaging formats as wearables make consumers even more mobile-focused. Consumers are becoming more demanding as they receive concise and personalized news. Marketers and journalists need to connect with consumers in this fierce competition for attention.
Will Local News Survive?
As local news reinvents itself to meet the challenges of the 21st century, new policies and regulations must acknowledge the interconnectedness of its journalistic mission with its business model and technological capabilities. Consolidation in the news and technology industries has resulted in a few corporate titans—with no clue of their decisions' impact on the communities they serve—making majority-owned news outlets and big-time technology companies the decision-makers.
As polarized as our nation is, addressing these issues is fraught with controversy. Coordination of national, state, and local efforts is essential to success.
Small towns and big cities make up the United States.
Whether in a high-rise apartment in Manhattan or on a farm near Manhattan, Kansas, the American system of governance relies on a reliable flow of information to its 330 million residents. According to Professor Victor Pickard's book Democracy Without Journalism, communities need local journalism to keep in touch with what is happening in their backyards - especially in their schools, their governments, and other critical institutions.
On the local news, they learn about the quality of their environment - whether their air and water are safe - and who is vying for local office. Despite this, local news is rapidly disappearing. Society must support this sort of reporting if we wish to encourage it."