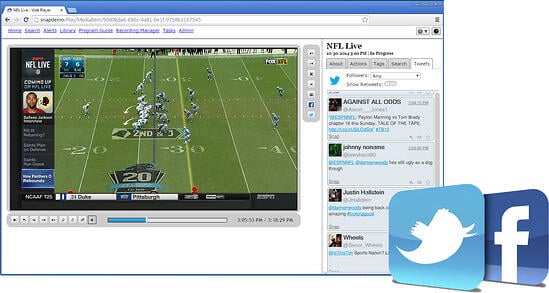 Social media + TV go together like peanut butter and chocolate. Don't believe us? Check out this Twitter Media Blog detailing stats from the recent social media storm caused by the Syfy Network's "Sharknado 2: The Second One."
The newly released SnapStream 6.4 makes it easy to engage with your fans/viewers through social media channels such as Twitter and Facebook. It's so quick to post images, TV clips and animated GIFs, because you can "do it yourself," without help from video production or anyone else.
Tweets and TV, Side by Side
Inside SnapStream, for the first time, you can watch the broadcast of any TV show AND what viewers are live-tweeting about it, side by side, in one window through our "Tweets Tab."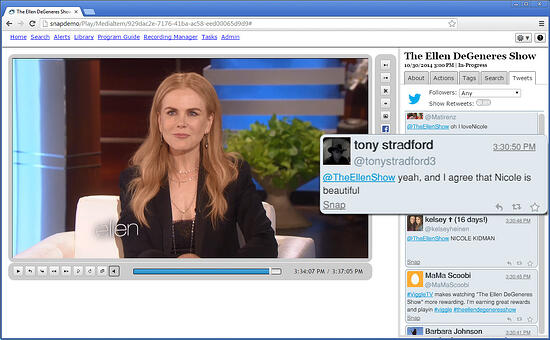 Tweets are automatically categorized so our "Tweets Tab" automatically works for 200+ US channels. Just pull up a national TV show and you'll see tweets about that show, from the Twitter firehose, displayed side by side with the show itself.
And to make it easy to find the right TV moment, you can click on any tweet to "snap" to that moment in the broadcast. From there you can reply to an individual tweet with a TV screenshot, animated GIF or video clip.
With our "Tweets Tab," you can engage people watching your TV show with unprecedented efficiency -- there isn't a better way to "engage your follower's followers."
And live-tweeting does wonders to boost follower growth and to build a strong social audience for your TV show, according to a recent Twitter study.
Share TV Clips, Screenshots and Animated GIFs to Your Social Media Audience
Here's how SnapStream can help your TV show maximize engagement on Twitter and Facebook for every minute of your broadcast, to boost viewership and Nielsen Social TV Ratings.
Tweet and Reply on Twitter
Did you know that simply adding an image to your tweet can double your engagement rate? SnapStream 6.4 gives you a quick, seamless tool for replying to tweets with embedded TV clips, images or animated GIFs.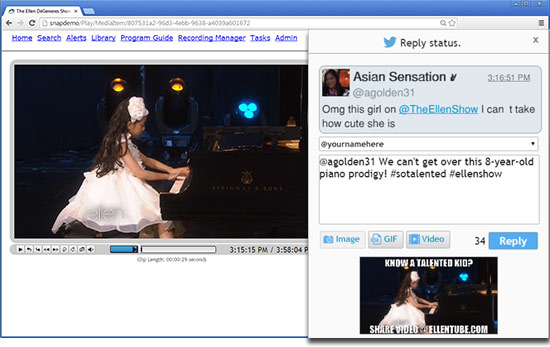 This allows you to engage your viewers and fans in a one-to-one fashion, in real time, with the actual TV moments they're talking about. Tweet, rinse and repeat to amplify 100s of engagements into 1000s.
The clips you create for Twitter are stored in SnapStream's cloud forever (no limits on storage!) and the images and animated GIFs are stored directly on Twitter.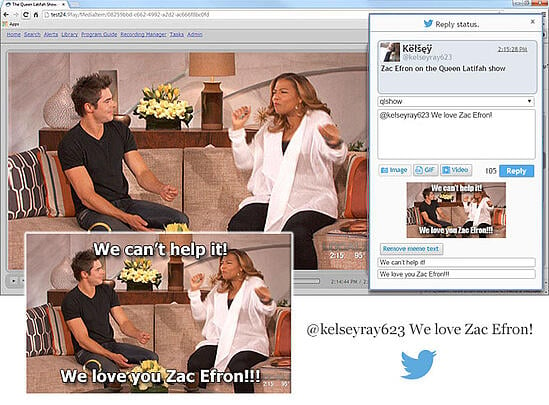 Create viral buzz with memes! SnapStream 6.4 allows you to overlay text onto any TV screenshot, so you can add a meme-like photo caption or a message to drive more followers.
We support multiple Twitter accounts per user and users can easily and securely add their own accounts without the need for an administrator to be involved.
Post Directly to Facebook
Ensure viewers will come back for more by capitalizing on your content's ability to keep viewers hooked between episodes. SnapStream 6.4 allows you to compose Facebook posts directly inside of SnapStream that contain screenshot images or even TV clips directly from the show.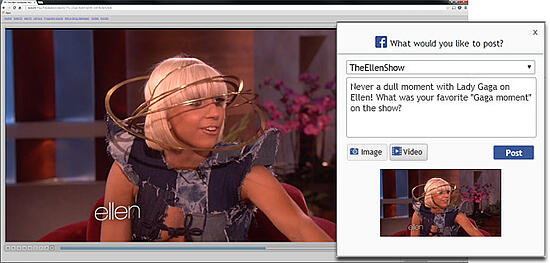 With all the content you'll be posting, you might be curious where those videos and images will be stored. All media content is natively embedded and hosted on Facebook.
With SnapStream 6.4, you can publish content directly to your Facebook Page. Are you managing multiple Facebook pages? SnapStream supports multiple Facebook accounts, so you can securely manage all of your Facebook Pages from a single SnapStream log-in.
Create and Share Animated GIFs
GIFs are at the heart of many Internet memes and viral phenomenon. SnapStream makes it easy to create and share animated GIFs on the Web and to social sites like Twitter and Tumblr. It's one of SnapStream's essential tools for repurposing your show's content and engaging fans online.
SnapStream 6.4 makes it easy to adjust frame rate and speed so you can highlight those awesome sports moments (or bloopers) with slow motion. In this case, we had fun speeding up this SNL clip with Kristen Wiig, Lady Gaga and Justin Timberlake!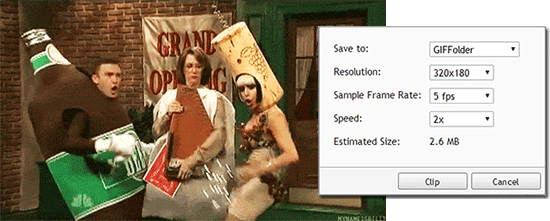 Ready to see SnapStream 6.4 in action?
Webinar: Boost Social TV Ratings with SnapStream
Date/Time: Tuesday, November 18 at 3 p.m. EST / Noon PST
For: TV Shows and Broadcasters
Webinar: Share TV to Twitter and Facebook
Date: Wednesday, November 19
Pick a Time: Noon EST / 9 a.m. PST or 3 p.m. EST /noon PST
For: All Organizations
How can I upgrade to 6.4?
For current customers: To schedule your free upgrade* to 6.4, contact SnapStream's support team via the Enterprise Support Form or via email at support@snapstream.com.
For new users: Contact one of our Sales Engineers to start the conversation about your TV monitoring needs. Email: sales@snapstream.com. Phone: 1-877-762-7787
*All software upgrades are free for current SnapStream customers who have a valid support contract and meet the hardware pre-requisites.