TV Monitoring in Canadian Government

We're looking forward to showcasing new SnapStream 6.0 next week at GTEC, Canada's largest government technology event. SnapStream will be at booth 1112 for the tech exhibition, which spans October 8 and 9 at the Ottawa Convention Centre.
Just like in the United States, various arms of the Canadian government rely on SnapStream, because it provides an easy and affordable way to monitor TV coverage for public information purposes. You can record and archive important TV coverage, search for TV mentions, create unlimited TV clips and ultimately, share those clips with others.
In the example below, we conducted a TV search for "RCMP," which is the known acronym for the Royal Canadian Mounted Police. SnapStream takes you right to the point of mention in the broadcast, making it easy to quickly find, review and share media references. Plus, the new auto-scrolling transcript provides even deeper insight into what's being said on TV about your organization and its key officials.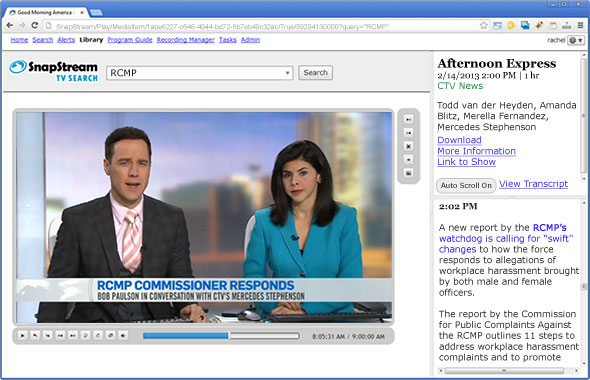 Meet with SnapStream at GTEC
Are you going to GTEC next week? Come by our booth (#1112) for a demo of SnapStream's core TV monitoring capabilities, plus all of the new features in SnapStream 6.0. You'll get to try out our new iPad app, which lets you play, search, clip and share TV from your tablet on the go. And you'll have the opportunity to see our new multi-viewer, which enables you to watch and compare up to four TV programs side by side.
Schedule a demo
(Click to expand.)