Introducing SnapStream 6.0, a new generation of TV monitoring technology that's inspired by your versatile workflows and needs. This fresh release of SnapStream delivers an array of powerful new tools that will expand your capabilities when working and collaborating with TV.
Multi-viewer: Play 4 TV channels side by side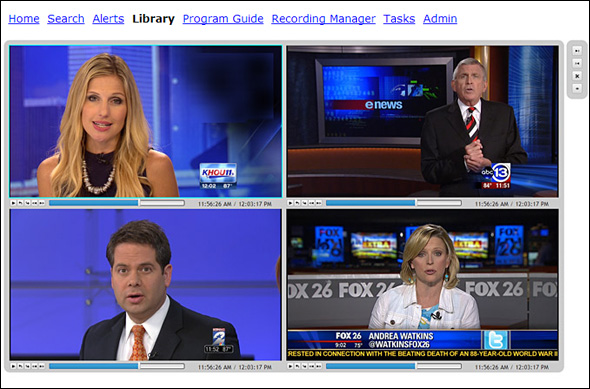 (Click to expand)
SnapStream 6.0 expands your TV playback possibilities into new directions. Select up to four TV programs from the library and play all of them side by side, with SnapStream's new multi-viewer. This new TV monitoring tool is ideal for competitive research and intelligence.
You can easily compare what's airing on your competitors' channels at the same time with the "sync all" option. You'll hear the audio for the primarily selected show, but you can switch between them at anytime. Plus, you can directly create clips from all four TV shows in play.
Watch live TV from the Web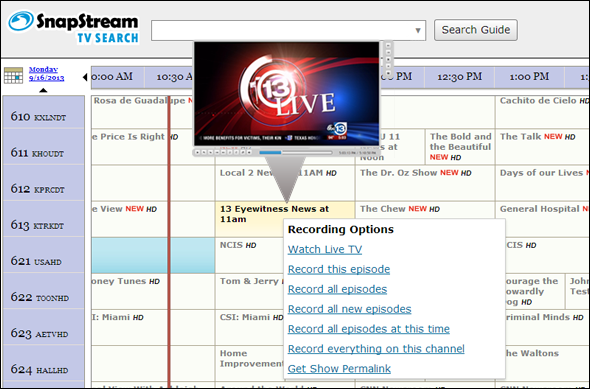 (Click to expand)
Sometimes, there are TV broadcasts you want to monitor in real time, that don't need to be archived for later use. SnapStream 6.0 enables you to watch live TV from the Web interface, directly from the electronic program guide. Right click on any show and the viewing/recording options will pop up, with the new addition of "Watch Live TV." Of course, there has to be an available tuner in order to watch something live.
Enjoy a fullscreen experience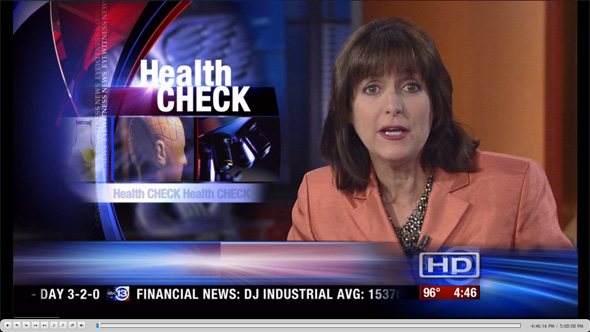 (Click to expand)
Keeping with the theme of catering to your preferences, SnapStream 6.0 delivers the option to play any TV recording or live feed with a total fullscreen experience. For instance, when using SnapStream in a meeting or a classroom, it's common to display TV content through a projector. The new fullscreen option provides a nice expanded view for presentations and lectures.
Run tasks from the search results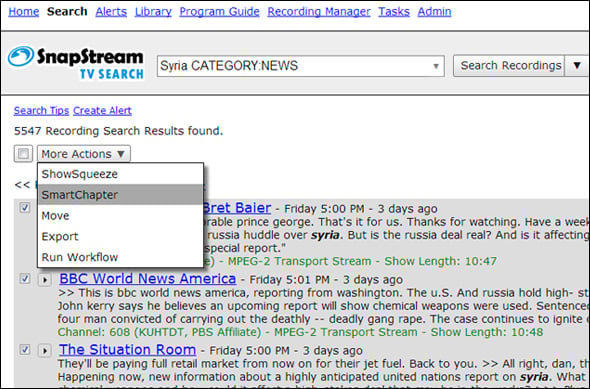 (Click to expand)
Also new in 6.0, you can run post-processing tasks directly from your TV search results, on multiple TV shows at a time. We refer to post-processing tasks as the types of actions that are executed after a recording completes, such as ShowSqueeze, which transcodes to H.264 or WMV, and SmartChapter, which segments the TV commercials within a broadcast. Having the ability to perform these types of workflows directly from search results allows you to handle TV content centered around the same topic, in the same way.
Cluster bigger and better
SnapStream customers who manage clusters of four or more machines will enjoy vast improvements in 6.0. As a result of implementing dual network adapters, SnapStream is able to double the potential bandwidth available for users and for processing tasks. In 6.0, it's also easier than ever to plug in a new node, such as a ShowSqueeze Node, with zero configuration, thanks to enhancements relating to scalability.
Monitor TV on the go, from your iPad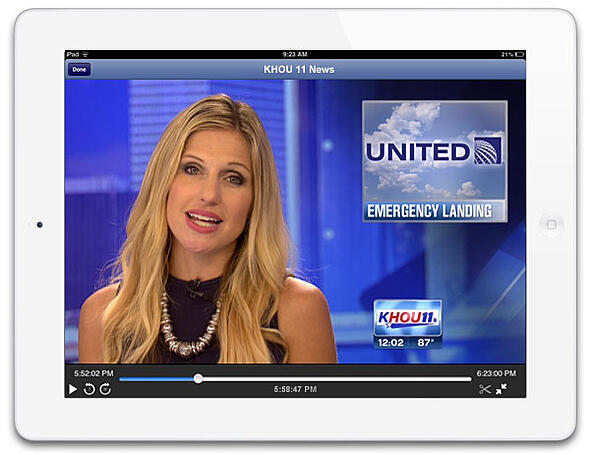 Read all about SnapStream's new iPad app.
Webinar: What's New in 6.0
Would you like to see a live demonstration of SnapStream 6.0? We will cover all of the features we talked about above, plus SnapStream's new iPad app! Join us on Tuesday, October 1, at 2 p.m. CDT for the What's New in 6.0 Webinar.
Sign up for the Webinar
How can I upgrade to 6.0?
For current customers: To schedule your free upgrade* to 6.0, contact SnapStream's support team via the Enterprise Support Form or via email at support@snapstream.com.
For new users: Contact one of our Sales Engineers to start the conversation about your TV monitoring needs. Email: sales@snapstream.com. Phone: 1-877-762-7787
*All software upgrades are free for current SnapStream customers who have a valid support contract and meet the hardware pre-requisites.