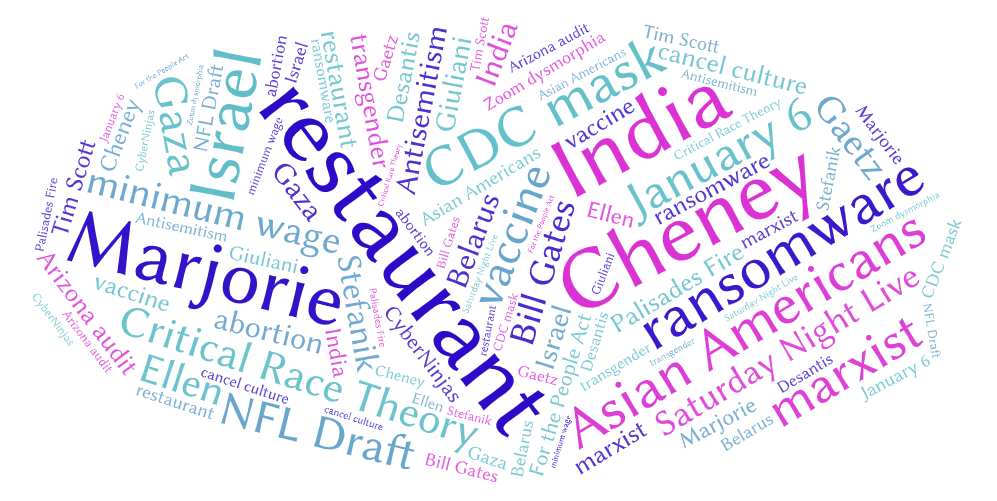 Each customer uses our news media video workspace in their own way, but it's always easy to see when major moments get everyone's attention. And May 2021 was chock full of big news stories -- you know, just like every other month before it in recent memory.
We're back at it this month looking at the top search topics in May. From May 1 through May 27, SnapStream users ran 32,240 search queries. Below are some of the hottest search topics of the month.


Restaurants and minimum wage - several restaurants complained of worker shortages as COVID restrictions lifted. For many chains, this brought to a head a years-long battle over wages in the restaurant industry, with some - including Chipotle and McDonald's - ultimately announcing wage increases that are likely to force others in the space to follow suit.


VIDEO: 🇺🇸 South Floridian Deatrice Edie and her McDonald's colleagues are on strike for a $15 per hour minimum wage. Several US retail giants and fast food chains have recently raised their minimum wages to reach or exceed that rate, including Chipotle, Target and Amazon pic.twitter.com/qTDP0Hiw9o

— AFP News Agency (@AFP) May 20, 2021
Asian Americans - in addition to May being Asian/Pacific American Heritage Month, signed the bipartisan-supported COVID-19 Hate Crimes Act into law. The legislation comes in the wake of increased violence toward Asian Americans throughout the pandemic.
Biden says he spoke to Asian Americans after the Atlanta spa shootings who were "waking up genuinely fearing for their safety"

"All of this hate hides in plain sight, and too often it's met with silence. Silence by the media. Silence by our politics. And silence by our history" pic.twitter.com/NRAnD2T6pU

— CBS News (@CBSNews) May 20, 2021
January 6 - Guys - did something happen on January 6 this year? Guess we'll find out, maybe. The date of the insurrection was back on everyone's radars as the House passed a bill to investigate the attack on the Capitol.
Senate Minority Leader Mitch McConnell says calls for a January 6 commission are a "purely political exercise."

He says: "At the heart of this recommendation by the Democrats, is that they would like to continue to debate things that occurred in the past." pic.twitter.com/B9PbqDs77k

— The Recount (@therecount) May 25, 2021
Cheney and Marjorie - raise your hand if you'd thought much about Liz Cheney or Marjorie Taylor Greene prior to 2021. Yeah...us either.

Both made headlines in May, with Rep. Cheney in the spotlight for being ousted from her House leadership post by fellow GOP members. Her transgression? Refusing to perpetuate the false idea that the presidential election was rigged.

At the other end of the GOP spectrum was Rep. Greene, who continues to snag the spotlight with her fringe viewpoints. Just when we thought her statement about Jewish space lasers was peak MTG, she one-upped herself this month, making waves by comparing House floor mask mandates to the Holocaust.


The news is WILD, y'all.
Other big searches this month included:
Critical race theory - several states have recently introduced bills that would prohibit critical race theory from being taught in public schools. And House Republicans introduced a bill that would ban diversity training for federal employees and the military.


Gaza and Israel - a ceasefire came after 11 days of fighting and more than 240 casualties. This decades-old conflict is far from over and has precipitated demonstrations and protests around the globe.


Cyber ninjas - the folks leading the charge auditing the November 2020 election results in Arizona.


NFL Draft - Clemson QB Trevor Lawrence is headed to Jacksonville in hopes of helping the Jaguars do better than 1-15 this season.


Bill Gates - Bill and Melinda Gates announced their divorce after 27 years of marriage. Think we will see either of them on Tinder at some point?


Zoom dysmorphia - apparently seeing yourself in the corner of video calls all day can create a skewed self-image. Lucky for us, we were already pretty skewed to begin with.


Can't wait to see what captures everyone's attention next month!