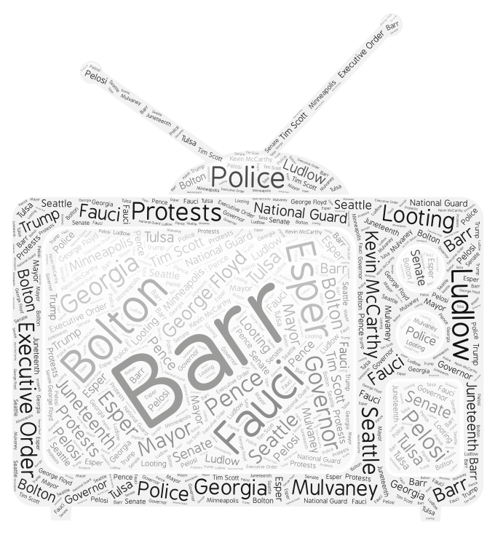 Each customer uses our news media video workspace in their own way, but it's always easy to see when trending moments command universal attention. As usual, June 2021 was packed with big news stories and our customers were all over them. Content producers were relentless in their quest to curate powerful video moments.
From June 1 through June 27, SnapStream users ran 33,317 search queries.
Below are some of the major search topics of the month.
George Floyd - For his role in the murder of George Floyd, former police officer, Derek Chauvin, was sentenced to 22.5 years in prison. Darnella Frazier, the teen who recorded the powerful and tragic video was awarded a Pulitzer Prize Special Citation for "for courageously recording... a video that spurred protests against police brutality around the world, highlighting the crucial role of citizens in journalists' quest for truth and justice."
Juneteenth - After passing through both the Senate and the House, President Biden signed a law making Juneteenth a federal holiday. The law enshrines June 19 as a day for the nation to commemorate the belated end of slavery in the United States.
"Juneteenth marks both the long, hard night of slavery and subjugation, and a promise of a brighter morning to come. This is a day of profound, in my view, profound weight, and profound power," President Biden says before signing a bill making Juneteenth a federal holiday pic.twitter.com/NCRwNkl7XN

— CNN Politics (@CNNPolitics) June 17, 2021
Georgia - Attorney General Garland announced the Justice Department is suing Georgia for introducing new voting restrictions. Garland says the laws "were enacted with the purpose of denying or abridging the right of Black Georgians to vote."
And That's Not All
Other big searches this month included:
John Bolton - The Justice Department dropped its civil lawsuit over former national security adviser John bolton's memoir
William Barr - Details have emerged that former Attorney General William Barr had a profanity-laden split with Trump over election lies. Barr said Trump's election lies were "all Bulls--t."
Tulsa - An emotional President Biden remembered June 1 as the 100 year anniversary of the Tulsa race massacre.
June proved, once again, just how powerful video moments can be. So, keep searching, keep snapping, and we look forward to seeing what captures everyone's attention next month.