It's not enough to post a video clip directing fans to a livestream
---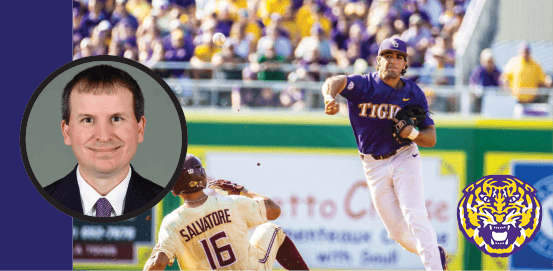 If you're part of the digital media team for the athletics department at a college or university, it's likely that you're working with restrictions—your conference probably has an agreement with a television rights holder (such as ESPN) that limits how many videos can go on social media feeds while a game is live. And if you work in pro sports, you know that some leagues have their own posting rules.
Todd Politz regularly navigates those types of restrictions. As the director of digital media at Louisiana State University Athletics, he oversees best practices for all of the social media accounts for the school's 21 varsity teams.
For each of those sports, there are one or two individuals who actually make the social media posts, as well as multiple others (such as photographers, videographers, and secondary communications assistants who are clipping from SnapStream) who contribute to content during a live event.
Throughout his 20 years at LSU Athletics, Politz has seen social media change how fans engage with their favorite college sports teams. He's also mastered how to smartly work within the social media restrictions LSU Athletics faces as part of the Southeastern Conference's agreement with ESPN so he can create genuine connections between fans and the LSU Tigers and Lady Tigers.
Here are his top tips on how you can do the same for your college or university's athletics department to drive your fandom.
Use Video Clips to Drive Fans to the Livestream
Ladies and gentlemen, @josh_smith8 with the game-tying home run! #GeauxTigers🐯

💻: https://t.co/gcTZ1gI5k6 pic.twitter.com/3xxozYC4Rz

— LSU Baseball (@LSUbaseball) May 5, 2019
A Twitter post with a video clip of an LSU Baseball game and a link to the livestream.
Specifically, ESPN dictates that the Southeastern Conference schools in its agreement can only post 10 videos and GIFs per live game for each sport, with the exception of football and men's basketball, for which schools can't put any videos or GIFs directly to their social media accounts during the live event window.
Politz notes that he and his team do their best to promote ESPN's livestreams of their events. Typically, they'll include a link to the livestream on WatchESPN (or the platform the game is being played on) when they post to Twitter, Facebook, and Instagram.
And although some sports at LSU can't be streamed live, Politz says "there are certain allowances ESPN makes to let us use clips from a game that is going on as part of our social media strategy."
Politz often uses SnapStream to clip parts of a live game and put those clips on different social platforms to drive fans "to either the livestream or the fact that an event is going on."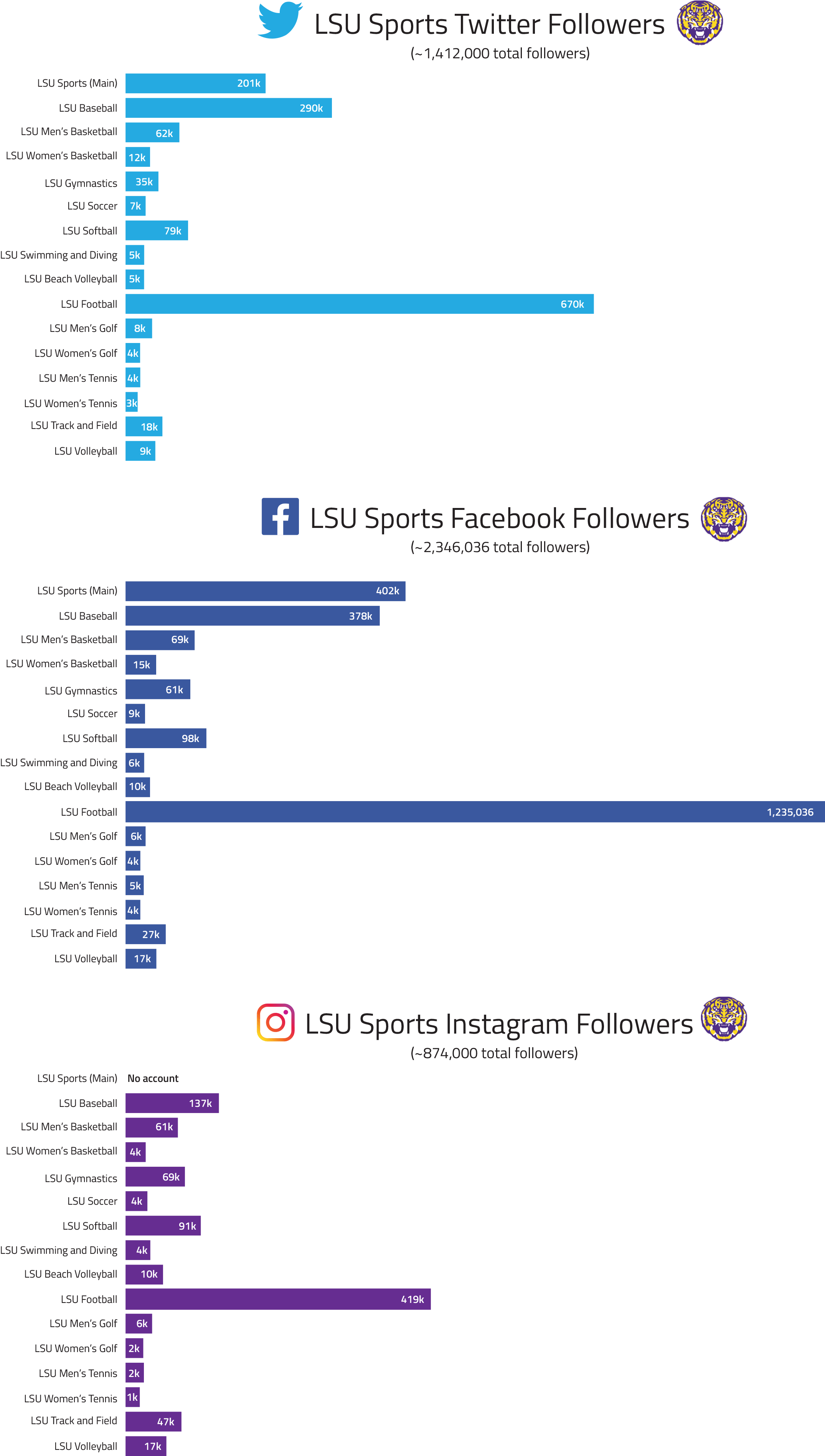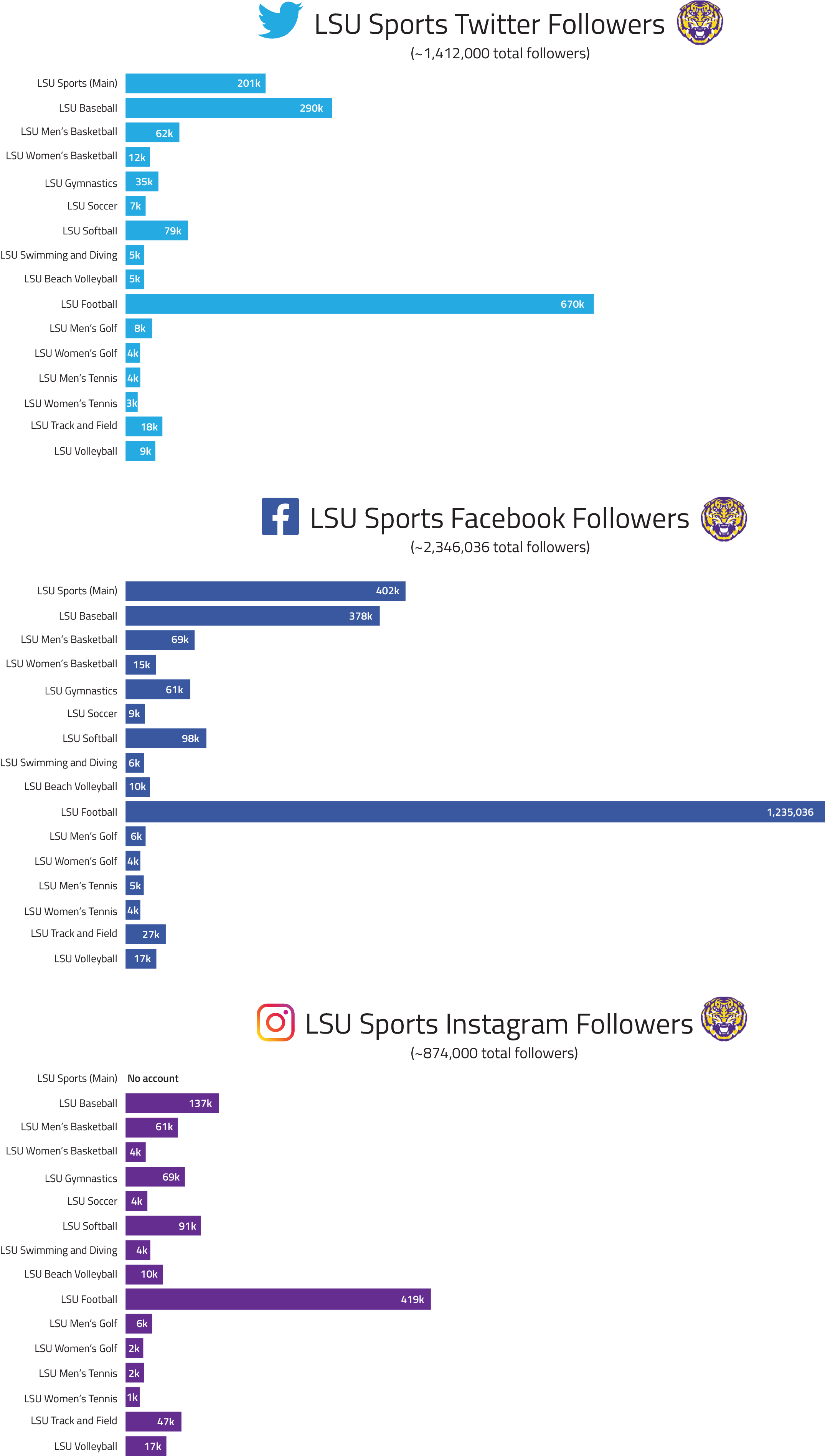 A look at the social media universe of LSU Athletics.
Be Selective About the Clips You Post
OH MY HILLIARD!!! The freshman with no concern for the moment. He strikes out his career-high NINTH batter to strand the bases loaded.
LSU 1, MSU 0 https://t.co/XLLEs9KofD pic.twitter.com/qI7xWvdcct

— LSU Baseball (@LSUbaseball) March 31, 2018
A video clip LSU Baseball posted on its Twitter account during a a game.
Politz notes the importance of being selective about the clips you post. Just because you can post 10 videos per live game for some sports doesn't mean you should. He brings up LSU baseball as an example.
"It's rare that we will have 10 really strong moments in a game," he explains. "Of course, we're trying to not dilute our feed with every strikeout."
He and his team look for moments that they think fans will appreciate, such as home runs, touchdowns, and other game-changing plays that put an LSU Athletics team in the lead.
Be the First to Get your Game Clip out There
WHATEVER IT TAKES 😱 pic.twitter.com/mlKxPwqfQM

— LSU Baseball (@LSUbaseball) May 23, 2019
LSU was the first to post this video clip (ahead of other organizations).
Politz says that he and his team can put out a clip of a memorable moment within 45, 60 seconds of it happening and engage fans.
"By the time they're finished cheering and enjoying it with their friends, we can have it where they can relive it on social media."
However, he stresses that getting the clip out quickly isn't enough. You have to be the first to post the clip. Timeliness matters.
"If you get your video out there first, you're probably going to have the best opportunity for it to go viral," he says.
Use GIFs to Turn Small Moments into Big Ones
The Baton Rouge boy making plays already... @JrStingley pic.twitter.com/5oPAnkKc7I

— LSU Football (@LSUfootball) April 6, 2019
An example of a GIF on LSU Football's Twitter account.
Capturing and posting the "little things" that happen during a game can be extremely impactful.
"You can have a small moment that we create a GIF out of that is very ordinary," Politz says. "However, it ends up having a big impact."
He brings up a hypothetical example. If LSU's baseball players stack hats on top of one of their teammates in the dugout, it would be great to create a GIF out of that moment.
"They stack 30 hats on top of each other, and you make a very quick GIF out of that to talk about baseball traditions or superstitions or things like that and use it not necessarily right after it happens, but later on, to talk about [it] being…. time to rally," Politz says. "You can use something like that to re-engage what was a great moment from a previous rally into today's game."
And sometimes, certain moments that happen in a game can go on to define a narrative amongst fans, like the "rally possum" baseball game LSU played against the University of Arkansas in 2016. LSU was losing when suddenly, a baby possum ran onto the field. After LSU facilities staff captured the possum, LSU ended up winning the game. In fact, they won 12 out of their next 14 games.
"It's still referenced when our team is behind," Politz notes.
He says he and his team use SnapStream to create GIFs as much as they use it to create video clips. One benefit of GIFs?
"You can hold onto those moments that will be instantly recognizable to your fanbase, but you can use them two, three years later, and they still resonate."
---
At SnapStream, we make video social, whether it's from TV or an in-stadium feed. We're what LSU Athletics and other college athletics and pro sports teams use to grow their fandoms by instantly capturing, creating, and sharing high-quality video clips, GIFs, and images to a variety of social media platforms, including Twitter, Facebook, and Instagram.