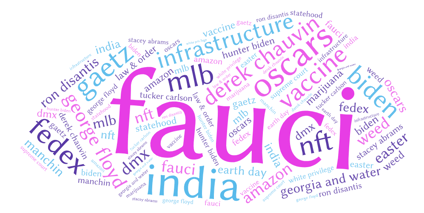 Because every SnapStream customer creates their own curated searchable video archive, we find that search trends can be as unique as the organizations we serve. Yet it's always easy to see the biggest moments each month, because they get all our users searching.
This month, from April 1 through April 28, SnapStream users ran 38,956 search queries. Below are some of the hottest search topics of the month.


Fauci, India, and Vaccines - SnapStream users are still searching for COVID-related terms, as the pandemic enters a new phase. Dr. Fauci appeared in more than 440 searches in April, as new COVID guidance emerged and vaccine availability ramped up. Searches for India rose sharply in the second half of the month as the country faces a heavy surge and new variants.


George Floyd - various search terms focused on George Floyd, Minneapolis Police, and Derek Chauvin were prevalent this month as the Chauvin trial resulted in guilty verdicts on all counts.


Oscars - searches for The Oscars/The Academy Awards topped more than 300. It was exciting to see The Oscars come back this year. An incredible list of winners. Thank yous to parents for procreating. And Glenn Close doing Da Butt. It was a weird, wild event.


Other big searches this month included:
Georgia & Stacey Abrams - many searches focused on the new Georgia voting law and restrictions around providing water to voters waiting in line


Matt Gaetz - the term Venmo was often attached to these searches


DMX - Ruff Ryder's Anthem will always be our favorite


Marijuana & weed - it was 4/20, after all


Biden (both Joe and Hunter) - infrastructure was also a hot term as the President shared his $4 Trillion economic plan


Amazon - related to the union vote in Alabama


We are excited to see what the next month of searches will bring.