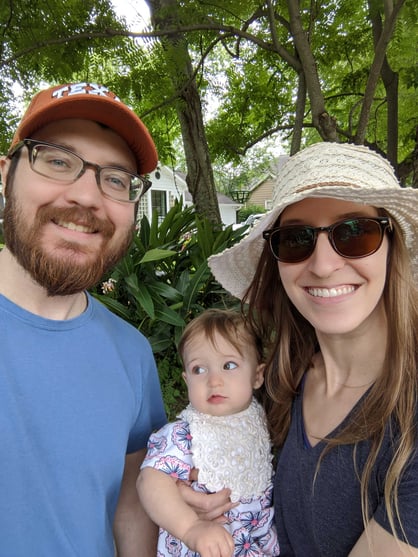 When you'd rather be eating Dad's homemade pizza than taking a photo
Before we head off for the weekend, join us for another Feature Friday and get to know one of our incredible engineers, Jon:
How did you find SnapStream?
I met with some of the engineers at the University of Texas career fair in 2011. I had just finished talking with a recruiter at a different company and was headed to the next one on my list, which was downstairs in the auditorium. The SnapStream booth was right at the base of the stairs so I decided to go ahead and talk to one of the engineers. I found the product interesting and the engineer was very enthusiastic about it. I interviewed and was brought on as a junior engineer.
What is your role here?
Software Engineer
How have you grown with SnapStream?
I started as a junior engineer with basic web development knowledge. As the product grew, I was able to learn and work with a variety of languages and technologies beyond websites, like IOS, Android, and databases.
What is your favorite thing about SnapStream?
The company culture. SnapStream really tries to keep you happy. I'm able to work the hours I want to work, dress the way I want, and work where I want. If an emergency comes up or I'm not feeling well, the responses have always been "Ok feel better", not "You need to finish this project".
What do you like to do when you aren't at SnapStream?
I like to spend time with my family. I play Dungeons and Dragons with friends a few times a month. I read lots of sci-fi and fantasy. I enjoy painting tabletop minis for DnD and other board games, and I love to cook, especially when it comes to baking bread and pizzas.