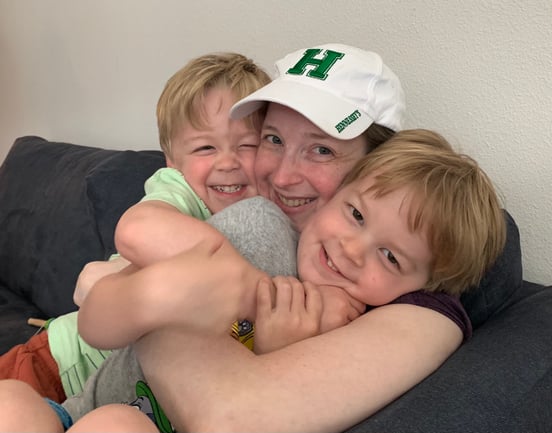 Well, hello there! Here at SnapStream, our people are everything and we like to show them off. This week, we'd like to introduce you to our leader of the Fantastic Four marketing team, Sarah:
How did you find SnapStream?
A former colleague of mine - who is also a dear friend - is based in Houston and introduced me to Rakesh. My degree is in journalism and I've always been a huge nerd for news and media, so I was excited to find an organization focused on that space.
What is your role here?
One of marketing's chief roles is to keep a pulse on what motivates our customers and prospects and to be a voice within the organization for how we can find new ways to make our customer's lives better and forge deeper connections with them. As VP of Marketing, I'm a champion for the SnapStream brand across all our channels to ensure we are connecting with the right customers to continue to grow the business. I also make sure my rock star team is enabled, empowered, and free of roadblocks so they can do their best work.
How have you grown with SnapStream?
What's crazy is that I've only been here for 9 months, but I feel like we've covered so much ground in that time. I learn new things from my team every day, and am definitely stronger in demand generation, data analysis, web development, and video production than ever. Plus I've gained a deep appreciation for what news and media professionals face in trying to grab audience share and engagement in the current environment. SnapStream has also afforded me the opportunity to roll up my sleeves and really dig into what it takes to be a digital publisher with a small team trying to create great content at scale.
What is your favorite thing about SnapStream?
Everyone probably says this - we have awesome people here. We're a smart, funny, eclectic, resourceful bunch. And even though I'm based in Dallas and don't get to see teammates in person very often, I still feel connected to everyone.
What do you like to do when you aren't at SnapStream?
Hobbies became a memory once my twin boys were born 4.5 years ago. When I'm not working, you can usually find me outside with the kiddos, my husband, and our greyhound Rufus. Given a few minutes to myself, I love to do crossword puzzles and read. And once my sons are a bit older, I hope to get back to my main passion - dance.