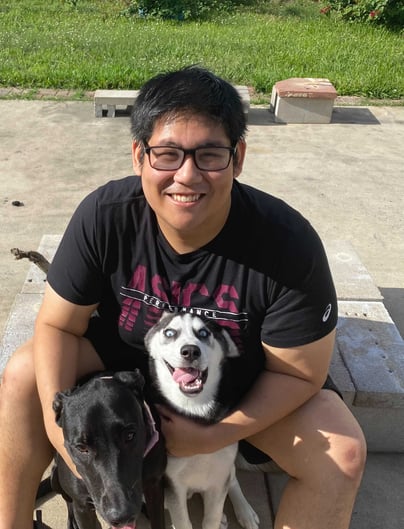 Supporting the dog life!
Welcome back to Feature Friday! Read about how Daryl rowed his way onto our support team:
How did you find SnapStream?
I found SnapStream one night when searching for IT jobs on Google. I was still in college at the time, so part-time work was my only option. I looked more into SnapStream through sites like Glassdoor and saw pictures of an awesome work environment and happy employees. I remember speaking to Chelsea (our HR Manager) over the phone and when I asked what I should wear for the interview, she told me to dress casually. I took it as business casual but when I entered the office I saw people in cargo shorts, sweat pants, and flip flops. I felt really overdressed!
What is your role here?
Staff Tech Support Engineer
How have you grown with SnapStream?
As far as height, I'm still the same! In terms of work, it has been amazing and I am grateful to the managers for giving me a full-time job after graduating from college. I've learned a lot about our products and how intricate they are while working in Support. Paul (our Technical Customer Support Manager) and the rest of the Support team played a big role in my position. They took the time to teach me everything they knew and gave me tips and tricks on what to do in certain situations.
Kyle ( our Platform Engineer) also taught me a lot when I was working in IT. Whether it was about networking, virtual machines, servers, or building IKEA furniture, he was great at describing how things function. I still apply what he taught me to my current role as well as outside of work
What is your favorite thing about SnapStream?
Besides the awesome employees, the stocked up fridge and pantry (pre-covid), get-togethers (now virtually), and randomness in general, one of my favorite things about SnapStream is our fitness challenge. It's fun competing with other employees on who can get the most points, plus we get Amazon Gift Cards every 100 points!
What do you like to do when you aren't at SnapStream?
I like to hang out with friends, play games, and annoy my dogs. I enjoy weight lifting and recently got into rowing. I also like to binge-watch Hallmark Christmas movies.