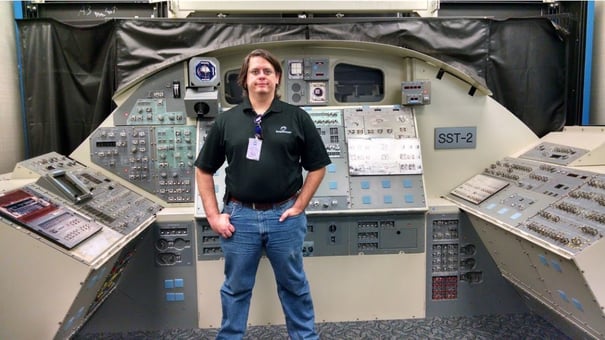 Chris visiting NASA for our Houston scavenger hunt in 2015 - he won the most points!
Well hello y'all, it's Feature Friday! Meet one of our awesome engineers, Chris:
How did you find SnapStream?
When I first found SnapStream, I didn't know it was SnapStream. I was using SnapStream's CouchVille offering which was a TV listing service that I used for my MythTV box (a free open source DVR). I later found SnapStream going through the list of best places to work in Houston while looking for a new job.
What is your role here?
Senior Software Engineer. I've worked on a lot of different parts of the product, but the biggest ones would probably have to be the cloud version and supporting website as well as frame accurate clipping.
How have you grown with SnapStream?
I think my communication skills have improved quite a bit, as well as just having a better understanding of how things work. I've also come to appreciate Windows a lot more from a server/IT perspective as well as coming to like C#.
What is your favorite thing about SnapStream?
We're a laid-back company with talented people that actually care about the product we're producing.
What do you like to do when you aren't at SnapStream?
I like to play video games, go shooting, work on my vehicles, and doing various other computer nerdery.