Wassup SnapStreamers, it's time for Feature Friday! Here at SnapStream, our people are everything and we like to show them off. This week, we'd like to introduce you to our demand generation manager, Amy!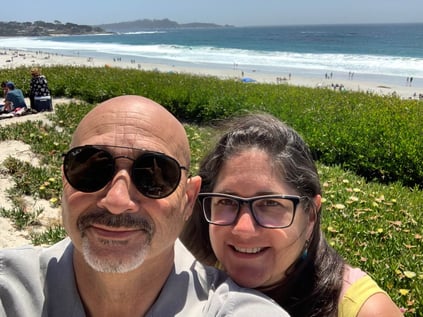 How did you find SnapStream?
The Houston tech scene is a pretty tight-knit group, so I had been aware of SnapStream for many years as I knew some former colleagues who had worked here in the past. I was formally introduced to SnapStream by my marketing mentor about a year ago. We kept the lines of communication open, and when the time was right, I made the move to join SnapStream's marketing team.
What is your role here?
My title is Demand Generation Manager, which covers a wide range of functions, but digital marketing is a key component of my role. This includes driving people to our website through online advertising (you know, those ads that follow you around the internet because you visited a website) and paid social (seeing ads on Twitter or LinkedIn because you fit a certain profile on your social media platform), or content syndication (making sure the awesome blogs, videos, ebooks, and webinars that Kevin Johnson and Sara Eck create are seen by our target market). I also cover Hubspot administration and marketing operations/analytics to understand what's contributing to the sales pipeline and how.
How have you grown with SnapStream?
I'm learning a lot about advertising on social media platforms. In other companies, while social was part of my overall marketing strategy, it was generally executed by another team member or an agency. You can read all the best practices or Twitter Flight School or LinkedIn Learning, but when you get hands-on experience with campaigns, it highlights how some things really work or really don't. I like that one of SnapStream's core values is Experiment Without Fear so that we can try new things to engage and attract followers.

What is your favorite thing about SnapStream?
SnapStream works hard to foster a culture that is thriving as a remote-first organization. Monthly all-hands meetings help keep employees connected to our core business goals and values. The Slack channels devoted to dogs, food & drink, and random thoughts about NFTs or cryptocurrency, as well as Donut-Friends, help you get to know coworkers you may not normally encounter in your everyday workday.
What do you like to do when you aren't at SnapStream?
Spending time with my husband, Felix, is at the top of my list. We like to cook and are always trying new things. He's been on a French cooking streak lately, so it's been hard for me to keep up! When we're not cooking, we like to travel, take in a baseball game, go to the movies (is that still a thing?), nerd out on technology stuff, and occasionally attend live theater. Our favorite musical is Jersey Boys, and we see A Christmas Carol every December.