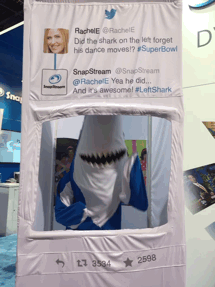 To launch SnapStream's new social TV features at NAB 2015, I was invited as the special guest of honor. You may have seen me roaming around the NAB hall, dancing inside of a life-size Tweet and waving hello to welcome you into our booth.
They call me: the #WalkingGIF.
Just like SnapStream's new social media tools for sharing TV GIFs, clips and moments to Twitter and Facebook, it was also my first NAB experience. What a show, what a place!
NAB goers were understandably very excited to meet me. It was love at first bite. They instantly knew I was a GIF of #LeftShark! (You know, the Twitter celebrity and Internet meme from the Super Bowl halftime show.)
At least I felt like a celebrity, anyway.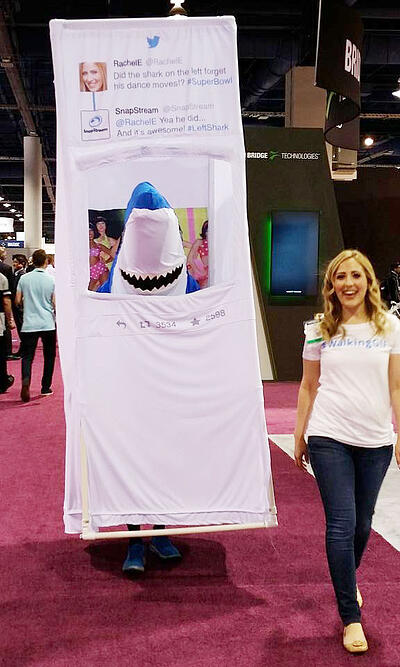 The people at NAB wanted to remember this moment, forever. They were all like, "I gotta take a selfie with you!" Yes, please. I am the king of selfies. I told them to tweet about our time together, to win a free Apple Watch.
I really loved meeting all of you and took home a lot of fun memories. Thanks for welcoming me to my first NAB!
And the winner is...
Congratulations to the #WalkingGIF contest winner @CandLSMommy for having the most engagement on her Tweet (retweets + favorites)! Enjoy your new Apple Watch Sport!