Meet SnapStream's 2014 Summer Interns!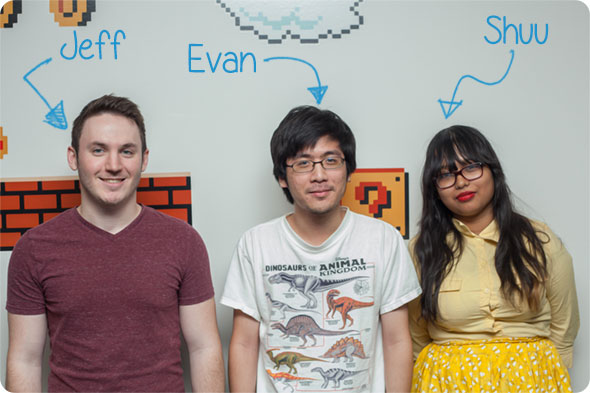 We loved having these smart, young minds on our dev team this summer! Here's a glimpse into what SnapStream's interns experienced and learned:

Evan Liu
So much has happened this summer at SnapStream, it's hard to recall all of it. The other interns and I arrived just as work on social media integration began. We were able to work with new technologies including Facebook, Twitter and YouTube, as well as learn new Web development techniques. Collectively, the interns were able to implement a bunch of cool new features that we are very proud of.
SnapStream is an incredible company to intern at. Because everyone on the team is very friendly and eager to help if we had any problems, working at SnapStream was an enjoyable experience. Personally, I appreciated the laid-back work environment the most. It's very refreshing to be able to work without constant micro-management.
Working at SnapStream has taught me a lot of new things and skills. Here are a few important points:
MVC is a pretty cool thing
CSS is a thing
Internet Explorer ruins everything
Caffeine is valid
All in all, my experience here has been incredible. I'll look fondly upon my time here and will miss working at SnapStream.
Shuu Hossain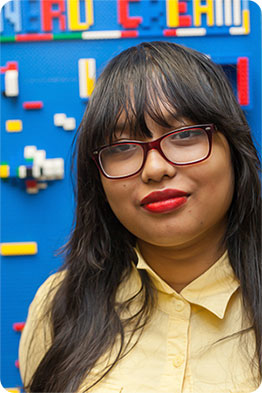 Working for SnapStream has been quite the experience for me; I've learned so much in my short time here.
Before I worked here, I was so scared of working for an actual software development company. This was partially because I wasn't particularly confident in my skills, but mainly because of social environment reasons. As a fairly extremely introverted person, it's already difficult for me to socialize, and with the ratio of women to men in dev companies being as low as it is, it seemed even more daunting to make friends.
Despite this company also sporting a similar male-dominated workforce, I never once felt lonely while working here. In this small company, I feel rich in friends. Everyone is so nice and caring and the community is so close-knit that, despite being an intern, I really felt comfortable here.
I learned so much in terms of software development during my three months here as well. Probably even more than in my entire college career! I'm only about to enter my second year of university at UT Austin, but my point stands.
This wasn't just my first experience in real-world programming, but programming outside of school as well. It was overwhelming the first day coming here and learning how to use programming environments that I never encountered before. Before coming here I had never once touched C# or SQL and I'd only fiddled with Javascript. But now I feel fairly confident in all three!
Honestly, I am glad I was as inexperienced as I was when I first entered. It made me feel free to ask "dumb" questions, which were all answered, either by my mentors or the internet. Everyone was very patient with me, either explaining concepts and issues to me, or redirecting me to sources where I could study for myself.
Each assignment I was given gave me a hundred questions to get answers for. I learned by breaking things, or doing things not quite right. I was so afraid of doing either but now I'm glad when I do, because it means I can learn how things work, or how to do things better. Whenever I submitted code for review, I would hope that it would be sent back to me for changes, because each time it came back, I would be able to track down new questions and learn even more.
I'm so thankful to have had this opportunity. It's been an honor to have been the first female developer in the history of this company!
Jeff Hertzing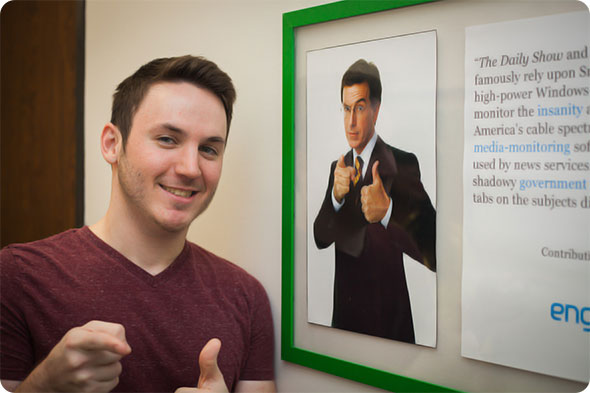 In my era before working at SnapStream, I always wanted to work on a big project or system that really mattered. School projects still matter, but as soon as you get a grade they are pretty much discarded. I wanted the work experience of being able to see many different parts come together from a lot of different people. When I first got to SnapStream and looked at all of the the systems and components inside the software, I wasn't sure how to grasp it because I've never seen anything this big before. After almost three months, I've been able to see a lot of it and understand how real projects work and function together.
I've always heard of other interns at most other places always getting stuck in a corner doing pointless busy work that never sees the light of day. Instead of a corner, here at SnapStream we were in the middle of everything and part of the whole office practically. Even though I'm sure some of the things we did were "Intern jobs," they still were necessary for the real product and are actually implemented into it. I even got to work on some really neat jobs such as implementing UIRT blasting functionality onto a web page.
Looking back at my skills before I started the internship and comparing them to now is a huge change, and only 3 months have gone by. Interning at SnapStream really helped me learn a lot about software development as well as learning other aspects besides programming. I still have a lot to learn but I plan on using these skills to become better everyday.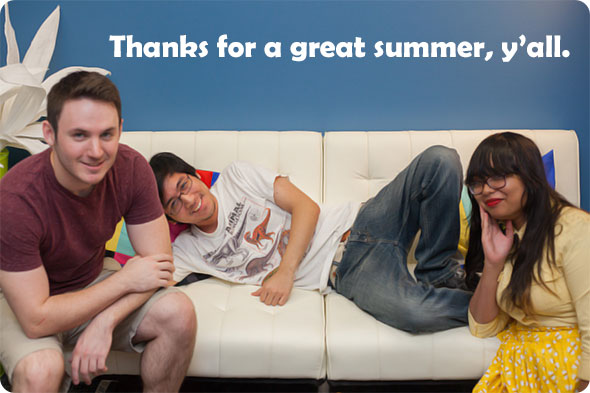 This is how we will always remember you...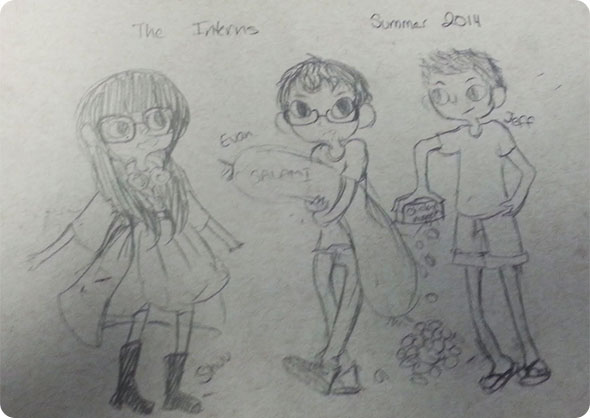 Illustration by Shuu Hossain