PEG Channels in the United States
In your city or town, you have likely flipped to a public, educational and governmental (PEG) channel that broadcasts community events, town hall meetings, public service announcements and other local original programming. Did you know there are over 5,000 PEG channels operating nationwide?
Every U.S. city has the right to collect a cable television franchise fee from the cable TV companies that serve its community. Thanks to the Cable Communications Act of 1984 (Section 622). These franchise fees, which are based on a percentage of cable operators' gross revenues, can generate huge sums of PEG funding for municipalities, for instance as much as $142 million for Dallas in 2007 and $140 million for New York in the fiscal year of 2010.
The catch-22? PEG funds are designated only for capital expenditures that finance day-to-day operations of public-access channels. But within those regulations, PEG funds can be used for various types of purchases. A good rule of thumb to go by is whether the capital being purchased has a substantial shelf life beyond the fiscal year.

Examples of Capital Expenditures:
Video production/streaming equipment
Computer/technology
TV monitoring technology
Vehicle for broadcasting or transport
Renovation and construction of facilities
Office furniture
PEG Fund Strategy at the City of Austin
The City of Austin is a shining example of maximizing PEG funding in order to leverage modern technology that helps deliver vital information to its citizens through multimedia platforms.
Keith Reeves is the Station Manager for Channel 6, the City of Austin's government access channel. The City has seven public-access channels in total. Programming on Channel 6 includes City Council meetings, public meetings, news conferences, educational programming about City departments and initiatives and more.
"We have a lot of citizen and media interest in what we do," Reeves said. "We have had a long time initiative for open and transparent government. That's one of the reasons we televise about 45 meetings per month, plus a lot of original programming to help educate the public on a variety of issues, event coverage and so forth."
Channel 6 also streams the channel live on its website, in addition to providing a well-categorized archive of video on-demand and corresponding transcripts—all available online for public access. The Channel also shares original programming, such as the CityView news magazine show, on its YouTube channel.
Smart Spending to Purchase SnapStream Again
Since 2007, the City of Austin has used SnapStream to monitor TV for public information purposes, spanning over 35 departments citywide. In 2013, the City was ready to upgrade to SnapStream HD and the newest hardware platform. This is where Channel 6 made a very smart move, by allocating their PEG funds to cover 100% of SnapStream's cost in full as a capital expenditure. Plus, they rolled in 2 years of technical support and service into the cap-ex to really maximize the PEG funds.
Just to be clear, you can't use PEG funds for subscription-based services because that is not a capital expense. That is an operational cost.
Station Manager of Channel 6, Keith Reeves, says that SnapStream provides very useful functionality at their PEG channel: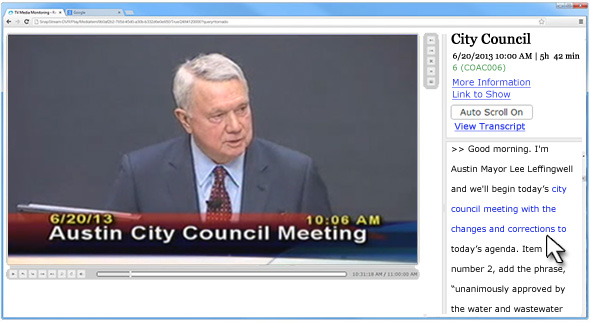 Confidence of 24/7 backup recordings of our channel
Content to post on-demand on our website
Download transcripts from our council meetings and broadcasts
Fact-checking and verification of decisions in city-related meetings
The ability to make unlimited clips
Cloud sharing to easily share clips
Media monitoring of other broadcast channels
"We get about 150 news stories per month about the City of Austin's departments," Reeves said. "Media monitoring is a sufficient justification on its own. It's really a multi-use functionality."
Does My State have a Statewide Cable Franchise?
In 2005, the Texas Legislature was the first to approve a cable and video franchise law that allowed telecommunication companies to offer television service without the need to negotiate individual agreements in every city. A majority of these statewide video franchise agreements require franchise holders to provide public, education, and government (PEG) channels and offer certain residential subscriber protections. Here are the states currently offering a cable franchise, statewide:
1. California
2. Connecticut
3. Delaware
4. Florida
5. Georgia
6. Hawaii
7. Idaho
8. Illinois
9. Indiana
10. Iowa
11. Kansas
12. Louisiana
13. Michigan
14. Missouri
15. New Jersey
16. North Carolina
17. Ohio
18. Rhode Island
19. South Carolina
20. Tennessee
21. Texas
22. Vermont
23. Wisconsin
City of Austin Webinar
For further information, you can check out the webinar we hosted with the City of Austin.