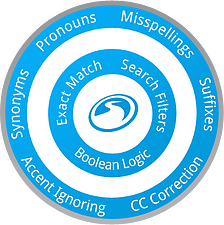 Thanks to new advances in language intelligence in 6.1, SnapStream's TV search results are enriched for the better, bringing you a wider variety of useful findings and relevant information every time you search.
Our TV search engine has always delivered exact matches with bull's-eye accuracy and now, we have expanded the target zone to include closely related, broad matches that are equally as meaningful but not so glaringly obvious.
New Language Intelligence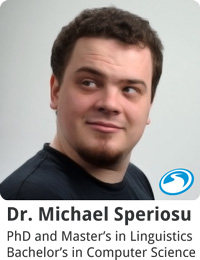 We recently hired Dr. Michael Speriosu, a full-time developer at SnapStream with a master's and PhD in Linguistics, who is the driving force behind this new direction in TV search. Mike's expert knowledge of linguistics and computer science has elevated SnapStream's search to a new industry standard, leaps and bounds ahead of other tools on the market.
As a result, SnapStream extrapolates what's being said on TV, not only word for word but also in between the lines.
"We're taking into account a myriad of language factors like synonyms, pronouns, suffixes and misspellings to deliver the most comprehensive results," Speriosu said, "along with alternative search suggestions to point you in the right direction."
Read more in Mike's blog post:
Breaking New Ground in TV Search
Ingest and Record ASI with SnapStream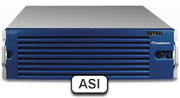 New SnapStream ASI enables broadcasters to ingest and record up to 4 digital content streams in the ASI format, leveraging SnapStream's powerful TV monitoring technology. ASI (Asynchronous Serial Interface) is the standard format that runs through television production and broadcast facilities.
Watch From TV Playlists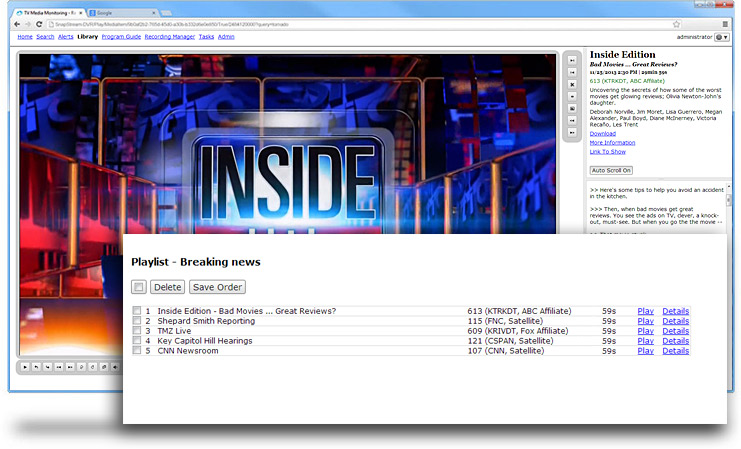 Click image to expand.
Play multiple pieces of content in sequence with new TV playlists. The inspiration for this new feature came directly from our users. Many of you frequently share TV clips in meetings, lectures and presentations, and we love the collaboration that is happening around television content. So we created a simple way for you to select TV content from your library and add it into a designated playlist, for your streamlined viewing pleasure. Enjoy!
Track What You Share in the Cloud
Cloud sharing has revolutionized the process of sending and receiving TV clips, and we are thrilled to release some new additions to managing this feature. In 6.1, you can "unshare" a clip at anytime and also access stats on how many times it has been viewed from the interface or by downloading a CSV report. The reporting option is a great starting point for your own internal media reports focused on tracking and cataloging TV clips.
Easier Management of Recording Priorities and Conflicts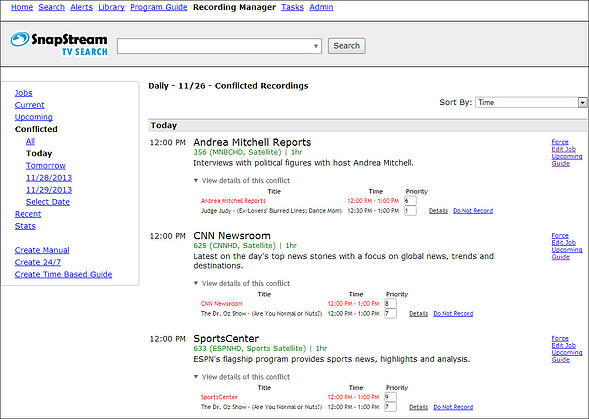 Click image to expand.
SnapStream's Recording Manager is your mission control center when it comes to your TV recording schedule, priorities and conflicts. It's normal to have scheduling conflicts at one point or another, but in 6.1 we make it easier to resolve those conflicts when they occur, using your job priorities on the fly to decide what recordings matter most.
Excited to learn more about 6.1?
For organizations interested in SnapStream, join us on Wednesday, December 11, at 3 p.m. EST for the What's New in 6.1 Webinar to see all of these new features live and in action.
Sign up for the Webinar
For SnapStream users, join our Upgrade to 6.1 Webinar on Wednesday, December 11, at noon EST.
Sign up for the Webinar
How can I upgrade to 6.1?
For current customers: To schedule your free upgrade* to 6.1, contact SnapStream's support team via the Enterprise Support Form or via email at support@snapstream.com.
For new users: Contact one of our Sales Engineers to start the conversation about your TV monitoring needs. Email: sales@snapstream.com. Phone: 1-877-762-7787
*All software upgrades are free for current SnapStream customers who have a valid support contract and meet the hardware pre-requisites.