Remember the days when your teacher would roll in a TV cart from the school library?
You knew what that meant. TV in the classroom = awesome. The day's lesson was about to come alive through video.
When we spotted this picture on George Takei's Facebook page the other day, it made us smile, because it represents a significant trend in education. And we put our own little spin on it.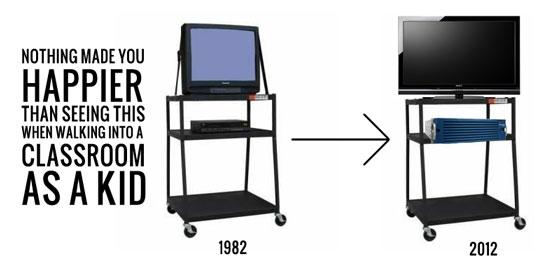 Video, while not a new medium, continues to excite students in new ways. It's the fact that rich video is available anywhere and everywhere, from YouTube to mobile devices. It's because TV is always fresh, relevant and relatable. Once you have the classroom engaged, the real learning truly begins. We know video is a powerful and dynamic teaching tool, because more and more schools are streaming TV to the classroom with SnapStream's technology.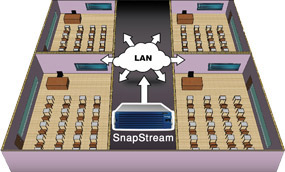 One SnapStream sits in your school's media center (not actually wheeled around). Teachers then log in from their computers and play recordings (or clips) on their projectors or TVs. See how engaged and connected your class will be when you show them the Curiosity rover landing on Mars or the latest presidential debate.
Just lose the cart and DVD player/VCR. It's not very 2012.