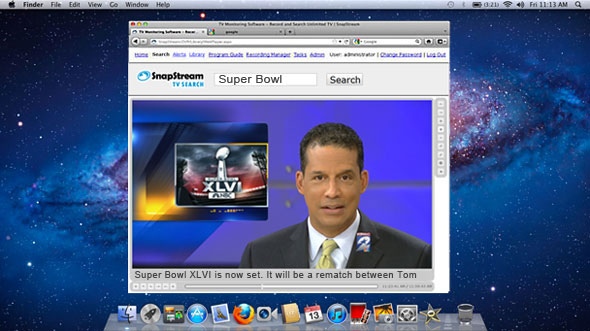 SnapStream's newly released Mac Web Player opens up the world of TV search to Mac users for the very first time. As we hoped it would, the announcement of Mac support generated tons of excitement and fanfare on Engadget, GigaOm and a bunch of other places.
Today, it gets even better. We are releasing 5.4.2, which carries support for HD video playback on Mac OS X. Woohoo!
So now you can enjoy the crisp resolution of high-definition television as you search, play and clip content from your Mac, connected to your SnapStream HD. Version 5.4.2 also features increased stability for the Mac Web Player and the ability to load guide data from offline sources, if you're so inclined.
While HDTV monitoring is a nice luxury for some, for others it is absolutely necessary. For instance, when repurposing TV content, it's HD for the win. For SnapStream users who work heavily in Final Cut Pro, in Mac environments, this one's for you. Seamless Mac HD support is bringing you a big workflow boost!
Hey Windows users, we haven't forgotten about you! In addition to the new features we highlighted here, every SnapStream release rolls out fixes and improvements meant to refine your user experience. So, it's usually a good idea to update to the latest version of SnapStream. Check out our release notes for the specifics.
SnapStream users, contact our support team to see about scheduling your free upgrade to version 5.4.2.
Not searching TV, yet? Give our sales engineers a holler to get started today.