Apple fans, today is your day. After over a decade of developing software for Windows, SnapStream is thrilled to announce the all-new Web Player for Mac OS X. This is the big cherry on top of Fifth Generation SnapStream, which has brought you scalability with clustering, Workflows, and tons of other new features and upgrades.
With the new release of 5.4.1, Mac users can now experience TV search in their native environments, for the very first time.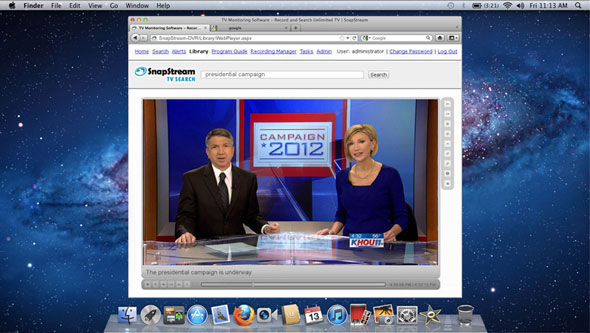 SnapStream's Mac Web Player is essentially a custom plug-in that we created to fit within the primary Web interface. It plays back SnapStream's native MPEG-2 TV recordings in Mozilla Firefox 8 and above, and runs on Mac OS X 10.6.3 and above (which corresponds to anything after Snow Leopard).
The look, feel and functionality is exactly the same as the Web Player for PC, which was released in June 2011. From the Web browser, users can point to the SnapStream appliance installed on their LAN and then continue to:
• Schedule TV recordings from the electronic program guide
• Search a vast archive of TV in milliseconds
• Create TV clips
• Play back TV recordings, clips or search results
• Transcode TV content and
• Set up TV Alerts
For those who work exclusively in Mac environments (i.e. educators and broadcasters), SnapStream is very excited to welcome your business and to dazzle you with the powerful capabilities of TV Search. Solving TV monitoring problems is what we love to do. Contact us to get started or to schedule your upgrade to version 5. (Current customers must meet the hardware prerequisities in order to upgrade.)