Get a load of SnapStream's first ever Web Player plug-in, now available in version 5.3 for enterprise users. We're very excited about the release of this slick new feature, and here's why: it enables you to play back recorded TV shows and create TV clips in the Web browser. The Web interface formerly played a supporting role to TV Search, but now, it's qualified to take the lead.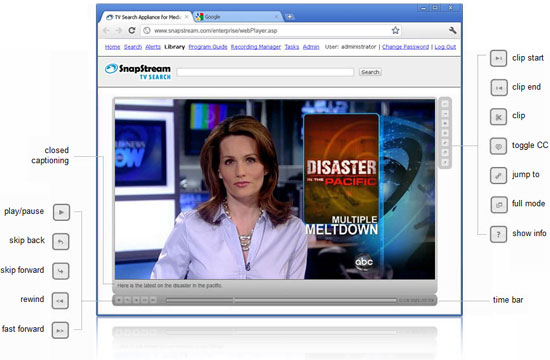 Web Player Checklist of Awesomeness
Note: SnapStream 5.3 is a free upgrade for eligible1 customers.

Everyone and their mom has a Web browser, so transferring the TV Search experience to a universal platform makes sense for a lot of reasons: it is easier to deploy, provides a more seamless user experience, and so forth.

Now, you can do it all inside the browser: search TV by keyword, play back recorded TV, create TV clips, set up TV Alerts, schedule TV Recordings and so much more! What can't you do that the viewscape can? Stop a recording in progress, full screen mode, volume control, or watch live TV.2

Now everyone in a SnapStream-positive workplace can access TV Search with more openness and ease. Want to share a link to a video you just found? All you need is a Windows computer with Mozilla Firefox, Google Chrome or Internet Explorer.

Upon clicking play for the first time, the Web player plug-in knows to install itself. It's a self-deploying package.3 From there on out, you're good to go. Though it may have been entertaining to watch your IT people run around like beheaded chickens to install new software on every machine in your office, it's just plain cruel.

If you're one of those people who currently uses both SnapStream's Web Admin and Link Client, having everything you need in one interface is going to make your workflow much simpler. You'll never need to switch back and forth between the two.
What else is so awesome about version 5? Read more.
1 Are you eligible? Contact us at support@snapstream.com to determine if your hardware meets the qualifications. This should go without saying, but you also must be a customer in good standing.
2 Live TV will return in the next Web Player release.
3 Your system administrator will need to install the system pre-requisites once per machine.