Blowing up the Tube
On Thursday night, Jersey Shore premiered with a blowout of 8.4 million viewers, making it the most-watched series telecast in the history of MTV. Love it or hate it, the Shore is up 62% compared to last year's debut, according to the Nielson Co.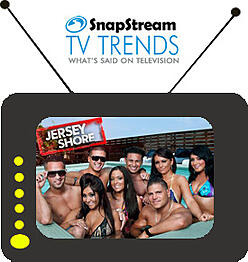 On the up-and-up, the reality soap's TV ratings have been progressively climbing, not "creeping," since it first aired in December 2009 with 1.4 million viewers. The Season 2 opener in July 2010 had 5.2 million people hooked.
While this news is shocking, it's also not a huge surprise. When you "punch" in a search on SnapStream's TV Trends (see: Snooki's face punch), the news results and media coverage match up 100%.
Tidal Wave of Jersey Shore News
All puns aside, the American news media propagates the popularity of Jersey Shore with continuous commentary and constant exposure. Think about it, any singular topic garnering this much attention in the press is going to incite public interest and provoke curiosity. No wonder people can't get enough.
The shenanigans on Jersey Shore have become the go-to source of pop culture satire—producing a gold mine of interviews, media appearances, spin-offs and talk material that everyone wants to capitalize on.
Snooki Dominates TV Trends
Play around with the graph below. Or visit tvtrends.com to type in your own keywords and see the context of each mention within the closed captioning. (Playback is reserved for SnapStream TV Search users.)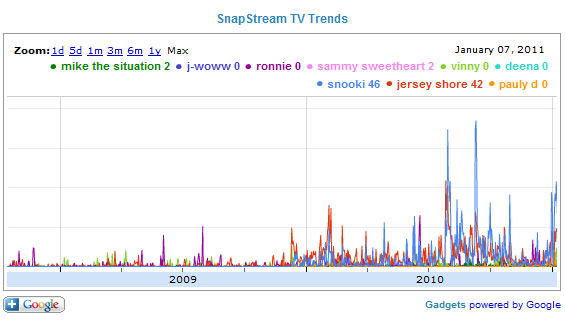 Snooki gets the most references, the most "hits" - isn't that interesting? She single-handedly outdoes the namesake of the show. If I was her, I'd command higher pay based on the sheer amount of media exposure she's raking in. So in conclusion, Snooki is the icon and MVP of Jersey Shore.
Have a great Friday. GTL.
For fun, here's the cast of Jersey Shore on The View: