As media outlets were buzzing yesterday about midterm elections, we were closely tracking what was mentioned on major television networks here at SnapStream headquarters.
Since we're a television search and monitoring company, we employ our own SnapStream Servers to record U.S. national TV (ABC, CBS, NBC, FOX, MSNBC, CNN and HLN) and provide insights into what is said on U.S. television. On big news days, like an election night, we gather all the closed-captioning data and run the numbers to distinguish the overarching news trends.
| | | |
| --- | --- | --- |
| | From SnapStream's aggregated television data, clear-cut trends emerge about the nation's pulse during this pivotal midterm election, which serves as a forecasting indicator of the political climate stirring for the 2012 Presidential Election. | |
Based on over 60,000 hours of recorded television, freely accessible to anyone at tvtrends.com, we find a heavily evident media focus on the Republican Party and a direct correlation with the outcome of Tuesday's balloting. As Democrats' majority in Congress slipped, so did their rate and frequency of national news coverage.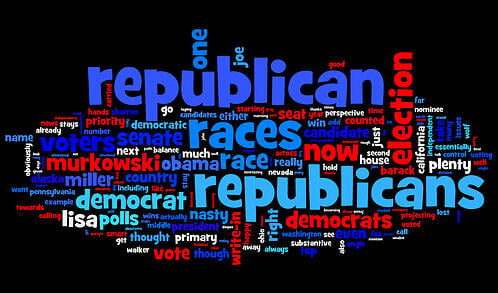 Several approximations are used when computing results, such as how many mentions occur per unique hour. To determine the "hot" and "cold" measure of certain words or topics, we use an equation to calculate a frequency score that's normalized to the number of hours of TV recorded on any given day.

Absolute, raw mentions


10/30 – 11/3

Hot TV Trends


Nov. 2, 2010

Hot TV Trends


Nov. 3, 2010

"Election" returns 767 mentions
"Voters" returns 359 mentions
"Republicans" returns 308 mentions
"Republican" returns 212 mentions
"Race" returns 213 mentions
"Races" returns 195 mentions
"Democrat" returns 61 mentions
"Tea Party" returns 53 mentions
1. Election
2. To the polls
3. The Republicans
4. Voters
5. Races
6. Lisa Murkowski
7. Race
8. The Republican
1. The Republicans
2. Races
3. Election
4. Race
5. In the senate
6. The Republican
7. To the polls
8. Zahra

An overview of keyword frequency across news channels, in descending order:
On the word "election,"
1. CNN
2. FOX News
3. MSNBC
4. HLN
5. ABC
On the word

"republican(s),"


1. MSNBC
2. FOX News
3. CNN
4. ABC
5. HLN
On the word

"democrat,"


1. FOX News
2. MSNBC
3. CNN
4. HLN
5. ABC
SnapStream TV Trends aims to provide insights into what is said on U.S. television. Updates occur every half hour and data is shown once the show is complete. To customize your own TV Trend search, visit http://www.snapstream.com/tvtrends.