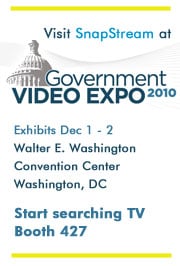 Every year after the Thanksgiving turkey has been gobbled, I know one thing is for sure. Team SnapStream is bound for the nation's capital to partake in the expansive Government Video Expo. This year, the event runs December 1 - 2 and will mark our fourth trip to what is known as the largest video production and training event to grace the east coast.
I love traveling to Washington, DC since it's the thriving epicenter of our government customer base, which includes the U.S. Senate, the Library of Congress and lots of federal organizations under lock and key. Yet it's important to note that the applications for TV search are boundless between city, state and federal government, and we have customers across the map with systems ranging in power to meet all levels. The gathering at GV Expo is largely federal, so we will be demonstrating our more powerful systems that can record and archive greater amounts of television over time.
I personally invite all of you "TV Searchers" to our booth (427) to be among the first to test our next generation of TV search technology, which will be fully released in the first half of 2011. I look forward to seeing many of your familiar faces at GV Expo, and happy holidays to all!