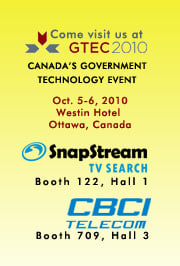 On October 4, SnapStream is escaping the Houston humidity and making a break for beautiful Ottawa, Canada to exhibit at the annual GTEC (Government Technology Exhibition and Conference).
GTEC draws folks from the public sector within Canada to learn about the latest and greatest technologies around. I believe the GTEC website (http://www.gtec.ca) summarizes the conference to a T!
"For the past 17 years, GTEC has brought together leading public and private sector experts to collaborate on serving citizens better through innovation and technology. Our conference, exhibition and Distinction Awards program celebrate best of breed technology, and best practice leadership in Canadian and international government."
Personally, I'm happy to be participating in GTEC for the first time. It will give us a chance to not only introduce our TV media monitoring technology to new Canadian government departments, but also to reconnect with many of our existing customers.
We're also thrilled to announce that our Canadian partner, CBCI Telecom, will be attending the show! CBCI Telecom is Canada's leading full-service Telepresence, Videoconferencing & Audiovisual solutions integrator.
A little background on SnapStream and CBCI Telecom: The working partnership was established in 2009, when CBCI introduced the SnapStream product line to the Canadian NMSO (National Master Standing Offer). Since then, SnapStream and CBCI have rolled out systems to many municipal, provincial and federal government departments across all of Canada, including the RCMP.
If you'll be in the area, feel free to visit with either SnapStream or CBCI. Hope to see you up North!