In case you missed the vital information contained in this webinar, watch the House of Representatives webinar on SnapStream's YouTube channel.
_ _

With midterm elections* around the corner, and all 435 of the House seats up for grabs, the news media will continue to play a critical role in shaping public opinion. As candidates are preparing to hit the ground running on their campaign trails, we're hosting a webinar this Thursday, July 22 to address the political advantage of TV search for tracking issues, competition and appearances.
The reality is, between now and November 2, candidates who practice proactive media relations (as opposed to reactive) will have increasingly better odds at sweeping victory over their districts.
To control messaging and earn the public's confidence, parties with take-charge leadership will capitalize on the media as a direct channel to reach their constituents. The public relations route leads to organic credibility that complements the value of sponsored ads.
Now, this might sound like a no-brainer for political strategy, but you'd be surprised to learn how many people aren't maximizing on this in a smart way. Paying for a clipping service or subjecting interns to full-time TiVo duty--probably not doing your cause much justice.

Alternatively, we've seen this formula work for our TV-hungry customers across city, state and federal government: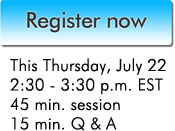 1) Dedicate a SnapStream Server to a trusty staff
2) Instantly search, clip and record TV
3) Launch game-changing campaign tactics
Sign up for our webinar to learn how to:
• Search by keyword across news networks
• Pinpoint mentions in seconds
• Create clips and download transcripts
• Receive real-time TV alerts
• Gain competitive intelligence
• Verify advertising
• Monitor public appearances
_ _
*Also up for election: 36 United States Senate seats and 37 out of the 50 United States Governors seats.