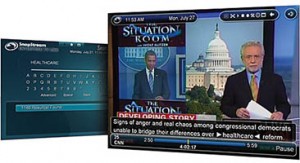 Publishing widely regarded content analysis, the Project for Excellence in Journalism serves an important role: keeping the industry in check.
A non-profit, non-partisan organization under the umbrella of Pew's Research Center, PEJ is a vital resource for journalists and citizens dedicated to the study and reflection of the press.
With teams of analysts watching and dissecting broadcast news on a daily basis, the Project makes great use of the SnapStream Server to capture traditional television and stream recordings right from their desktops, all in the name of empirical research.
Speaking to the Project's Content Supervisor, Paul Hitlin, I gathered that this type of technology has made their workflow become much smoother; they were able to eliminate the hassle of burning DVDs and bringing them to their work stations, not to mention keeping them organized!
What they find useful about going digital: they can directly play back content and archive it. This makes it easy to handle simultaneous things--like side-by-side comparisons of news outlets and writing up research findings--all in one place, from the PC.

Webinar with Paul Hitlin Wednesday, May 26 3:30 p.m. EST / 12:30 p.m. PST
Paul Hitlin has graciously agreed to share his insights from the front lines, covering the bases of broadcast news analysis. On the horizon, he sees vast potential for the PEJ to expand the scope of quantitative trends they can isolate in the media from the source of TV search technology.
For professors and professionals in journalism and communications, there's so much you can learn from Paul and what PEJ is doing. I hope you'll join us next Wednesday, May 26 for a live webinar and interactive question and answer session.