Updated 11/3/2017: added new information about creating a Digital TV head-end in the cloud
Updated 10/18/2011: added information on Drake's HDMI to QAM / HD encoder products-- the DSE24 and the HDE24.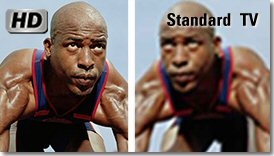 At the end of last year, I wrote a blog posting about how to create your own analog TV headend. Today, I'm going to talk about how to do accomplish the same thing, but with digital, high-definition television.
Standard-definition analog TV is fine for some media monitoring and TV recording scenarios. But in other scenarios you might want to record TV shows in the highest quality possible.
Maybe you produce a TV show, like The Soup or , the Daily Show/Colbert Report and when you include a TV clip inside your show, you want it to show up at the highest quality possible.
Or maybe you're a non-profit that wants to showcase your media mentions on television at the highest possible quality to donors.
For scenarios such as these, you want to record television in high-definition and be able to search within those recordings in high-definition as well.
There are a couple of ways to make HD recordings and be able to search within them:
New - How to create your own digital (IP) TV head-end in the Cloud
Recording ATSC
ATSC is the standard by which digital TV is transmitted over-the-air in the United States. It's transmitted without encryption, so recording and searching TV broadcast over ATSC is pretty easy. Just get and install an antenna for your physical location and connect the output from that antenna to your SnapStream TV search appliance (note: it has to be one of our HD-capable appliances) and just use SnapStream as you would with any other TV source... we have full program guide data for ATSC signals in the United States and parts of Canada and using ATSC with SnapStream is really straightforward.
But what if you want to record something in high-definition that's not available over the air? What if you want to record something like ESPN HD or CNN HD or MSNBC HD?
Well, then you'll need to build your own QAM headend. What's that? Read on...
Building your own unencrypted QAM headend
To make high-definition (HD) recordings of channels that aren't available over-the-air (OTA), you'll need to build your own unencrypted QAM head-end. Unencrypted QAM, like ATSC, is something that SnapStream's HD TV search appliance can take as an input and record from.
Building your own unencrypted QAM head-end is pretty similar to building an analog TV headend. You follow the same basic steps:
1) get your TV sources
2) modulate each source to QAM
3) combine the modulated channels into one feed!
So for step 1, you'll simply get your high-definition TV source from whatever provider you choose -- this might be from a digital cable provider (like Comcast or Time Warner Cable) or from a satellite service (DirecTV or DISH). For each channel you want to modulate, you'll need a single receiver (or set-top box). And each of these receivers need to be capable of high-definition TV. You should also choose a receiver that can output HDMI or component while also outputting analog composite or s-video. The analog composite or s-video is how, in most cases, you'll be able to access the closed-captioning for searching with SnapStream.
Then for step 2 (modulating each source to QAM), we recommend using a simple one-box QAM modulation solution. There are three such solutions that we know of on the market today, and we've heard of a bunch more that are coming -- there seems to be a rising demand for one-box QAM modulation solutions. More on this below.
Then in step 3, you would simply combine all of these signals together using a combiner, much as we described in our article on how to build an analog headend.
The one-box QAM modulation devices (ie what you need for step 2) that are a) shipping today, b) that we've tested in the lab here at SnapStream, are:
Blonder Tongue's HDE-QAM: This is a pretty simple box that takes in HDMI, modulates its audio and video to unencrypted QAM, and outputs it via coax. The HDE-QAM also has an ethernet port for accessing it's web-based settings page where you can configure the channel/sub-channel to which it modulates and the quality (bit-rate) at which the encoding happens. Images of the front and the back of the Blonder Tongue HDE-QAM:

The Blonder Tongue HDE-QAM appears to have been around the longest amount of time -- we learned about it in March of 2009. The list price for the Blonder Tongue HDE-QAM is $10,000 (we expect this to come down). More information on the HDE-QAM can be found on Blonder Tongue's website.
Adtec's HDMI-2-QAM: The Adtec HDMI-2-QAM is less expensive than the Blonder Tongue AND has more features. Like the Blonder Tongue HDE-QAM, the Adtec takes in HDMI, but it can handle two channels in its 1U chassis. So it takes two HDMI inputs and modulates both of those to a single QAM channel, each on its own sub-channel. It also is supposed to have support for passing closed-captioning through (which the Blonder Tongue unit does not have support for), though at the time of writing this blog posting, this was still being worked on and should be fully enabled in a soon-to-be-released firmware update. One important note: the Adtec HDMI-2-QAM will not allow you to modulate a source HDMI signal that has HDCP copy protection enabled (the Blonder Tongue does).
Images of the front and back of the Adtec HDMI to QAM (click the front and back panel for larger images):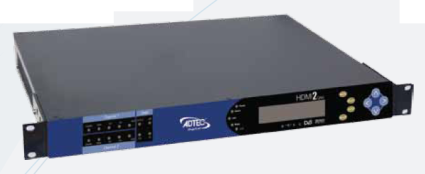 The Adtec HDMI-2-QAM first began shipping in November and it's just now beginning to ramp up to production quantities. The list price on the Adtec HDMI-2-QAM is $7500, making it a price-attractive option at $3750 per channel.
Contemporary Research's QMOD-HD: Finally, there's the QMOD-HD from Contemporary Research. Instead of HDMI (which both the Blonder Tongue and Adtec products use), the Contemporary Research QMOD-HD takes in video via a composite high-definition signal (Y-Pb-PR cables) and audio via an optical audio input or analog audio composite (left and right) inputs. And then it modulates that audio and video to QAM. One unit of the QMOD-HD handles a single channel. The advantage to using composite inputs is that the QMOD-HD doesn't have to worry about handling HDCP encryption that might be present on the HDMI signal. The QMOD-HD does not have any support for passing closed-captioning data.
Here are images of the front and back of the Contemporary Research QMOD-HD:


This is the newest one-box QAM modulation solution that we've come across -- it started shipping in quantity last week (Feb 2010). The list price for one unit of the CR QMOD-HD is $2450, making it the least expensive per channel of the three options we've listed here.
Drake's HDE24+MEQ-1000 and Drake DSE24 products (new!): While we haven't fully tested and reviewed them yet, we recently discovered Drake's DSE24 and HDE24 products. Read preliminary information here. (Updated 7/26/2011)
Have any questions about building your own QAM headend for the purposes of recording and searching high-definition television? Drop us an e-mail at sales@snapstream.com.