(First time visitors: Welcome to SnapStream! We make TV search software used by organizations to search inside TV shows. And it's not too expensive, starting at $2,000. What's TV search, you ask? Watch this YouTube video or visit our website to learn more.)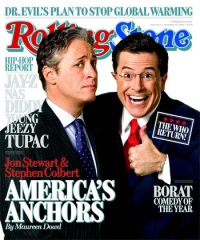 We don't do a lot of press releases anymore, but here's one that went out earlier this morning. Congrats to my team here at SnapStream!
(PR Web has the press release and graphics here)
The Daily Show and The Colbert Report Choose SnapStream to Monitor and Search Broadcast Television

Houston, December 21, 2009 - SnapStream Media, Inc. announced today that Comedy Central's hit TV shows "The Daily Show with Jon Stewart" and "The Colbert Report," have selected the company's TV search solution for locating and packaging high-definition clips from television broadcasts. Launched in 2007, SnapStream Server is a turn-key television search appliance that enables organizations to record and store thousands of hours of television and then search inside those recordings by keywords and phrases.
"Part of what makes the Daily Show and the Colbert Report great is their satire of news stories, media organizations and political figures. So they are very serious about monitoring television! As the shows deploy SnapStream, we believe our TV search technology will prove invaluable and essential to them—technically and creatively," said Rakesh Agrawal, SnapStream's CEO and Founder. "And their selection of SnapStream, after a rigorous evaluation process, validates the uniqueness and power of our TV search technology for any organizations that needs to monitor television."
The SnapStream TV search solution to be deployed at the Daily Show and Colbert Report will provide for a completely high-definition (HD) workflow, allowing the show's producers to centrally record and archive more than 30 channels of traditional HDTV; then subsequently search those recordings, create clips that can interact with Avid and Final Cut Pro video editing systems.
Visit the http://www.snapstream.com/ website to learn more about SnapStream's affordable and effective TV search technology - our turn-key TV search appliances starting at $2,000.
About SnapStream Media, Inc.
SnapStream allows organizations to put their finger on the pulse of traditional television. Customers can record a virtually unlimited number of TV shows from satellite, cable or antenna and then search inside those TV shows to pinpoint television content of interest. Existing customers include government organizations, such as the U.S. Senate and the City of New York, to educational institutions at the university and K-12 level to entertainment organizations such as Comcast Entertainment, Current TV, and MTV.
###