Hi there, Daniel Mee from SnapStream Enterprise Support here. I'm writing to tell you about an exciting change to our line of TV servers: a brand new hardware platform!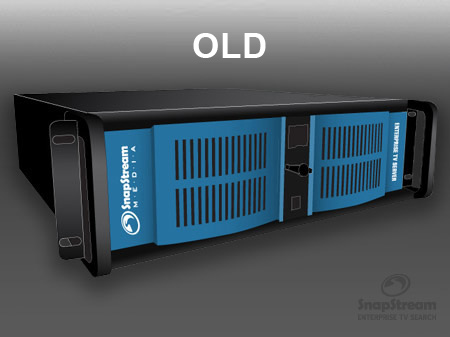 This is the chassis that's been in use on our server since its introduction in 2007. While this hardware has done very well for us, we're beginning to find that some of our clients are using their servers heavily enough to demand better power and thermal management, greater storage capacity, and easier access with less downtime for maintenance. So, we're phasing out our existing chassis in favor of this new design.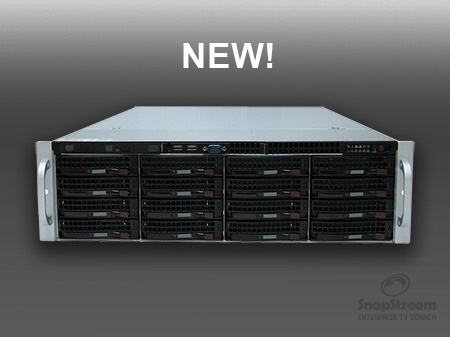 Among the benefits of this new platform:
Increased storage capacity
Hot spare hard drives
Better OS drive management
Bigger, better power supplies
Server-grade SAS storage backplane
Better failure indicators
Better airflow management and cooling
Improved access to storage hardware
Increased storage capacity: Our servers will now start at 3TB of usable space, and we can offer up to 9TB on our 3-unit servers, while our 4-unit models will max out at 15TB. We hope to be able to offer 30TB or even more soon!
Hot spare hard drives: Our new drive cage has space for hot spares, which will make drive failures much less intrusive by providing automatic failover to the spare drive.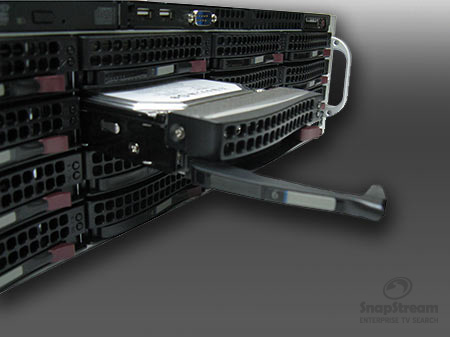 Better OS drive management: The system's mirrored OS array will now be managed through the same controller as the storage array, allowing for faster performance, better management, and dramatically easier maintenance, as well as providing e-mail alerts for failed OS drives.
Bigger, better power supply: All SnapStream servers are equipped with dual hot-swap power supplies that are both redundant and load-balancing. A single power supply may fail without the system losing power- and a single unit may be replaced without shutting down the system. In addition, the redundant units are rated at 900W each, allowing them to operate at a much lower percentage of capacity, and providing safer operation even if one unit fails.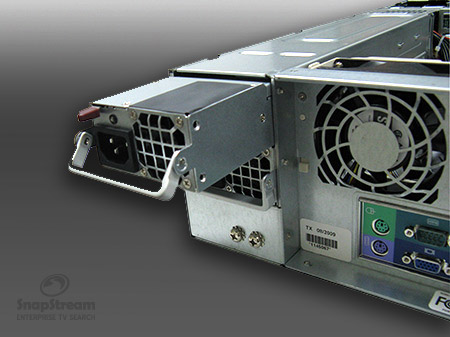 Server-grade SAS storage backplane: We've switched to SAS for the connection between the system's RAID controller and its backplane. SAS provides better performance, as well as better reporting in the event of drive or port failure. Meanwhile, we've retained the use of SATA for the drives themselves, due to its higher storage density.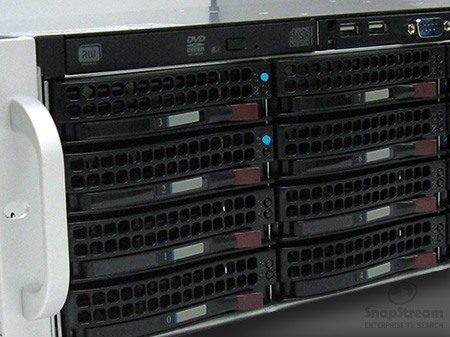 Better status indicators: Using SAS for the RAID hardware allows for better communication between the chassis and the RAID management software, including the ability to display drive status using LEDs on the front of the server. A flashing blue light means the drive is in use, while a flashing red light appears on a drive that needs to be replaced, and a slow-blinking red light indicates a hot spare.
Better airflow management and cooling: Improved cooling means better performance and stability in long-term high-load use cases.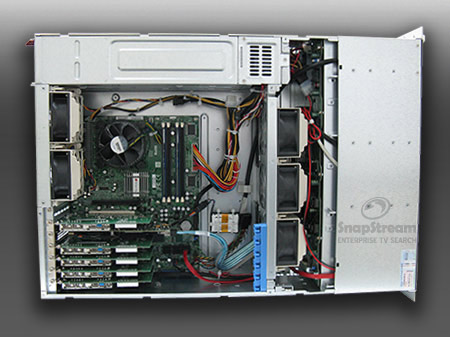 Improved access to storage hardware: Replacing the RAID backplane now takes ten minutes instead of two hours.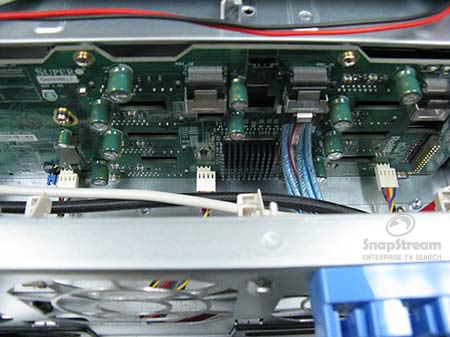 Overall, it's a physically stronger chassis that can provide the same storage in fewer rack units. And, the rackmount rail kit delivers its own significant improvements over the older model- easier installation, sturdier design and a better fit to the case.
We're very excited to offer this new hardware on all new orders of the SnapStream TV Server, starting immediately. We hope that you'll be as happy with it as we are.